The Excel Fluid Group NoVault 2 (NV2) pump station enclosure (above ground valve chamber) gives you full access and control of your lift station pumping equipment without the hassles of confined space entry. Built with rugged aluminum and feature packed for operational convenience, the NoVault pump station is, by design, one of the most versatile units on the market today.
The EXCEL NoVault pump station is the "Next Generation" in municipal wastewater collection system management. Our engineering department can modify standard construction features to fit almost any job specific requirement. Excel Fluid Group is your single-source supplier for complete lift stations including concrete, structural HDPE or fiberglass basins and your choice of controls and telemetry.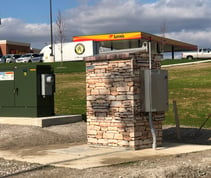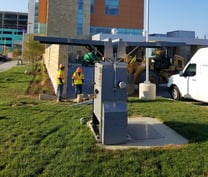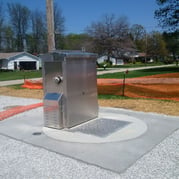 Safety
A sanitary wet well is a dangerous confined space that has claimed many lives in years past. This places a special obligation of care on all those involved in servicing and installing pump stations.
Excel Fluid Group has worked with municipalities throughout North America to develop the Excel NoVault Pump Station to minimize your risk, by providing a well designed, safe installation where all maintenance can be performed without entering the wet well or valve vault.
Long-term operating and maintenance costs are substantially reduced through superior design and the use of quality equipment and materials.
Compact Layout
The Excel NoVault design incorporates the valves and lift station controls within the footprint of the main wetwell. For installation in areas with limited space the Excel NoVault provides all of the features commonly found in conventional lift stations.
The NoVault pump station is the designer's dream come true; with the smallest footprint available and aesthetics to blend into your environment it has become the first choice for many developers, consultants and communities.
Technical Specifications
EXCEL NoVault Pump Station 4'x4' Enclosure:
Internal structure is fabricated of 6061-T6 aluminum tubing and the exterior sheet is fabricated to a mill finish ASTM 3003 with 6061-T6 aluminum, minimum sheet thickness of 0.80. Enclosure baseplate is ASTM 6061-T6 aluminum plate and includes an integral hoist davit. Aluminum integral bulkhead separates the electrical compartment from the plumbing and valves compartment.
Gull Wing Access Doors:
Aluminum lockable gull wing access doors with locking gas shocks and stainless-steel hinges; includes bug-free ventilation covers. Two (2) heavy duty 300 series stainless steel keyed handle that operates 2 FMV#SS206 approved latches.
NoVault Enclosure Lighting:
EX4 four (4) high power LED waterproof light fixtures, rigid aluminum housing, 12VDC power supply. Automatically energized when access doors are opened.
NoVault Enclosure Insulation:
Dow Super Tuff-R poly coated closed cell foam, sidewall has a minimum rating of R6.5 and the roof has a minimum rating of R12.5.
NoVault Enclosure Liner:
Black "Rhino-Tuff" spray coating, two-component, 100% solids elastomeric polyurethane/polyurea hybrid lining.
NoVault Enclosure Ventilation:
Wall mount electric cooling fan, 120 VAC, 230 CFM, aluminum frame, thermostatically controlled.
NoVault Enclosure Heating:
Wall mount electric radiant heater, 120VAC, 1000 Watts, thermostatically controlled for freeze protection.
NoVault Discharge Piping:
2", 3" or 4" flanged pipe and fittings, Available in ductile iron, HDPE, SCH80 PVC or stainless-steel.
NoVault Discharge Valves:
Two (2) Milliken lever & weight swing check valves, flanged, AWWA C508, ductile iron ASTM A536 body, epoxy coated.
Three (3) Milliken eccentric plug valves, flanged, AWWA C504, cast iron A126 Class B body, rubber coated ductile iron plug, manufacturer standard coating.
Emergency Bypass Connection:
Aluminum quick disconnect fitting with aluminum dust cap, includes plug valve and pipe fittings.
Pumps & Level Controls Electrical Plugs/Receptacles:
Electrical pin and sleeve quick disconnect power connections, Type 4X, water and gas tight design.
NoVault Electrical Controls:
Excel Arc-Sentry duplex control panel, NEMA 12, UL listed enclosure, contains high voltage compartment with electrically interlocked door and a low voltage compartment with all operator 120VAC controls. Multiple control options available including VFDs, NEMA starters, PUMP Vision PV600 UPC controller with 6" or 12" HMI screen, standard lights, pushbuttons and switches. Includes external flashing alarm light. Control panel designed to reduce electrical hazards for operators.

Submersible Pump Options:
Non-Clog Pumps: 3" or 4" discharge, range from 3 HP – 150 HP, 208-230/460 V, 1 phase or 3 phase.
Grinder Pumps: 1.5", 2" or 3" discharge, range from 2 HP – 15 HP, 208-230/460V, 1 phase or 3 phase.
Chopper Pumps: 3" or 4" discharge, range from 3 HP – 150 HP, 208-230/460 V, 3 phase only.
Wet Well Structure Options:
Pre-Cast Concrete Wet Well, 60" minimum diameter, depth sized per application.
Polymer Concrete Wet Well, 60" minimum diameter, depth sized per application.
High Density Polyethylene (HDPE) Wet Well, 60" minimum diameter, depth sized per application.
Fiberglass Reinforced Wet Well, 60" minimum diameter, depth sized per application.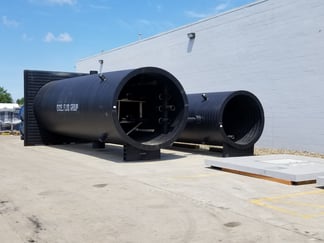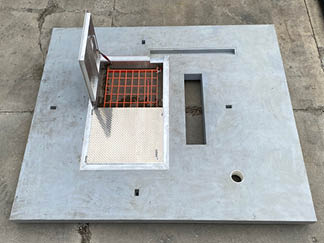 Polymer Concrete Flattop w/ Access Hatch & Safety Grate:
Castinite polymer concrete flattop, 18,000 PSI compressive strength, 90%-94% high purity quartz aggregate w/ high strength resin epoxy, minimum 84"x84" Square.
Aluminum channel frame access cover with lockable dual hatch doors, stainless steel hinges and hardware. Includes safety grate, aluminum "I" bar construction, safety orange powder-coated finish, 316SS hardware, tamper proof SS hinge bolts, 300# PSF load rated.
Cable tray with aluminum slip-resistant removable cover, designed to house all power cables, level control cables and serves as the wet well vent.
Guide Rail Assembly:
Two (2) ductile iron base elbow stationary fittings, bolted to wet well floor with stainless steel studs. Size range From 2" (In.) – 4" (In.) flanged base elbow fittings.
Two (2) stainless-steel upper guide rail brackets, mounted on wet well access cover frame.
Four (4) 304 stainless steel guide rails.
Two (2) ductile iron moveable fittings, mounted on pump discharge, allow pumps to be removed without entering wet well.
Includes stainless steel intermediate guide rail brackets if wet well depth is greater than 20' (Ft.) deep.
Level Controls:
Primary LevelRat transducer, 316SS construction with SCH80 PVC stilling tube and back-up float switch level controls.
Options
Electric Crane Hoist
Flow Meter
Inlet Drop Bowl
Trash Basket
Meter Base
Automatic or Manual Transfer Switch
Generator Receptacle
Stand-By Power Systems
SCADA Compatibility
Aesthetics
FOG / Odor Control System
Resources
PDF - EFG NV2 Technical Specifications
PDF - EFG NV2 Concrete Pump Station Drawing
PDF - EFG NV2 Fiberglass Pump Station Drawing