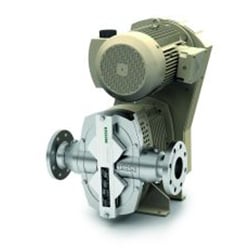 For effectively pumping viscous fluids containing solids and abrasives, Excel Fluid Group offers NETZSCH TORNADO® positive displacement rotary lobe pumps. Compact in design, NETZSCH TORNADO® pumps offer high efficiency, metered pumping capabilities by means of a pair of abrasion resistant lobes that rotate in opposing directions within a housing. These rotary lobe pumps are ideal for chemical, agriculture, municipal/industrial waste water, and food applications, where pumping viscous fluids, sludges and slurries that contain a high solids content or entrained air is necessary.
High-performance Rotary Lobe Pumps from NETZSCH
Maximum operational performance
High reliability and durability
Ease of maintenance
Low total life cycle cost
As an industry leader, NETZSCH knows the vital role that positive displacement pumps play in industrial and municipal applications around the globe. That's because we've been an important partner with customers in meeting their needs and solving their process & applications challenges with highly engineered and well-designed pumps.
With all the sizes and models available, NETZSCH TORNADO® self-priming, valve-less, positive displacement pumps can meet or be customized for any process and application requirement.
The TORNADO® Rotary Lobe Pumps can be used for almost any media on intermittent, continuous or metering applications.
The advantages of the NETZSCH TORNADO® include:
Service friendliness – no need to dismantl pipework or disconnect the drive for servicing
Physical separation of the pump head and bearing housing
Small footprint
Characteristics of TORNADO® Rotary Lobe Pumps
Valve free construction
Self priming
Suitable for any kind of liquid including product containing gas, solids, or fibrous matter
Suitable for lubricating and non lubricating media
Pumping media with high or low viscosity
Handling shear sensitive fluids
Operating at temperatures up to 212°F / 100°C
Reversible operation
Can be serviced without disconnecting pipework
Tolerance of dry running