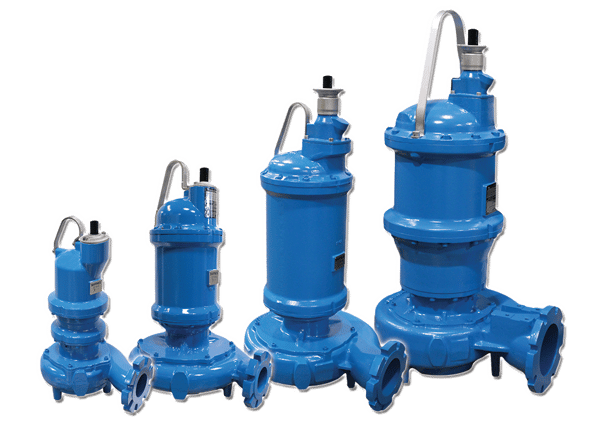 Excel Fluid Group has extensive working knowledge of non-clog submersible pumps. Working with Barnes, ABS, Goulds, Myers and other brands, we can select the correct pump for your application. Our expertise and experience with municipal sewage lift stations, wastewater treatment plants and industrial applications means that you will get the right pump for what you need – every time.
We have hundreds of non-clog submersible pumps in stock. If you need to upgrade your current pump, we'll help you get it done without dealing with long lead times.
Barnes SH Series Pumps
SH submersible solids handling impellers are designed for outstanding clogging resistance and true pumping efficiency. These wet-well submersible pumps utilize a combination of inverter-duty rated motors, ideal for variable speed operations and an external coating system providing corrosion resistance. Additionally, SH Series pumps are:
Designed for Solids Handling With Less Clogging

SH utilizes vortex, monovane or dual or tri-vane impellers
Minimum 3″ spherical solids handling capability on most pumps (2 ½" on 3 SHMP)
Pump-out vanes protect the mechanical seal area
Designed for Variable Frequency Drive
Inverter-duty rated motors per NEMA MG1 Part 31 for dependable VFD operation
Designed for Longer Mechanical Seal Life
Grit-resistant silicon carbide or tungsten carbide pump-end seal faces
Heavy shaft design to minimize deflection
Standard, non-proprietary seals – readily available
Designed for Longer Bearing Life
Heavy-duty shaft reduces deflection loads
Oil lubrication provides superior life compared to grease
Bearing ratings of 50,000 hours at minimum flow (2.0 fps)
Designed for Tough Wet Well Environments
SH uses components and coating systems to provide outstanding corrosion resistance
Two coats of DuPont Corlar® modified polyamide epoxy provides outstanding external corrosion protection

Pump shaft, all fasteners and the large lifting bail are corrosion-resistant stainless steel for long life
The ABS EffeX Range
The World's First Premium Efficiency Submersible Sewage Pumps!
The ABS EffeX range of submersible sewage pumps offers you a complete solution for your pumping needs. It does this by a combination of much-improved reliability, greater energy savings, the highest level of clog resistance, future-proof design and a clear commitment to achieving the highest sustainability in both manufacturing and operation. Simply put, we now give you greater peace of mind in running your wastewater business.
The ABS EffeX range will virtually cover all submersible sewage pump applications in the following segments: wastewater collection networks, wastewater treatment and domestic and commercial wastewater.
Premium Efficiency and a Lot More
A premium-efficiency motor is just one of many benefits you get with the ABS EffeX range. After analyzing market needs and the design of our ABS submersible wastewater pumps, we have built in a number of new features that make our ABS EffeX range the best pumps available, including:
Long-term reliability
Reduced risk of pollution from overflows
Reduced risk of interruption to services for customers
Reduced breakdown costs
Reduced sump cleaning costs
Reduced maintenance costs
Greater energy savings
Reduced energy costs
Smaller CO2 footprint
Qualification for capital allowance funds
Excellent rag handling
Reduced risk of pollution from overflows
Reduced risk of interruption
Reduced breakdown costs
Reduced sump cleaning costs
Future-proof design
Compliance with planned EU, USA, CAN and other legislation for conventional motors
Impeller designs based on future wastewater content
High reliability to ensure compliance with overflow reduction targets
Sustainable in manufacturing and operation
Reduced CO2 emissions in pump manufacturing and operation
Increased pump life
Reduced maintenance costs by field adjustments rather than in-house repair
Resources