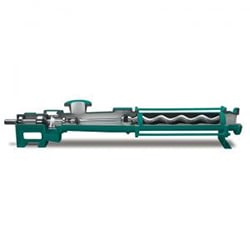 Excel Fluid Group offers NETZSCH NEMO Progressive Cavity Pumps. NEMO® Progressing Cavity Pumps have a very broad application range and are used in all branches of industry for the continuous, pressure-stable, gentle and low-pulsation conveyance of almost any substance. One advantage for the operator is that such a valveless positive-displacement pump is also capable of transporting stringy material safely. Whether for sludge, chemical substances, adhesives, petroleum or yogurt, one of the eleven pump types by NETZSCH in four rotor/stator geometries and a selection of engineered joints are sure to suit your application.
Features and Design
NEMO® Progressing Cavity Pumps are used in all sectors of industries to convey almost all types of media continuously, smoothly, with low pulsation and dosing in proportion to speed.
Broad range of applications
The progressive cavity pumps are primarily used with media that have the following features:
Containing solids (max. solid size up to 150 mm) and free of solids
Low to high viscosity (1 mPas – 3 million mPas)
Thixotropic and dilatant
Shear sensitive
Abrasive
Non-lubricating and lubricating
Aggressive (pH 0 – 14)
Adhesive
Toxic
Large capacity and pressure range
Flow rates from just a few ml/h up to 1000 m³/h
Number of stages ranging from 1 to 8 for pressures from 6 to 48 bar (standard) or up to 240 bar (high pressure)
A range of different conveying elements
Four different rotor/stator geometries are available to ensure the design is optimally adapted to the specific task.
Wide range of materials
Our range of metallic materials extends from simple grey cast iron and chrome-nickel steel to highly acid-resistant materials such as Duplex, Hastelloy and titanium to suit different conveying tasks. Ceramics and plastics round off the list for aggressive and abrasive applications. Our elastomers range from highly abrasion-resistant natural rubber, to oil-, acid- and alkali-resistant elastomers and finally Aflas and Viton. For products in which elastomers cannot be used because of high temperatures or for reasons of durability, a large number of solid-based stators made from plastics and metallic materials is available.
Large variety of shaft seals
The range of mechanical shaft seals includes simple seals with and without quench, double-acting seals arranged back to back or in tandem, and cartridge seals. For specific applications, stuffing-box packing, lip seals and special seals are available. A pump with magnetic coupling is available for use with toxic media – to guarantee 100% that there are no leaks.
Additional features
High suction capacity – up to 9 mH2O
Direction of rotation and flow can be reversed
Can be installed in any position
Quiet, smooth running
Temperatures from -20 °C to + 200 °C