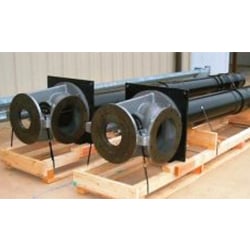 Excel Fluid Group offers Hydroflo Vertical Turbine Pumps. These pumps come standard with investment cast, stainless steel impellers for compliance with the latest drinking water regulations, and durability in the toughest industrial application. Hydroflo is commitmented to manufacturing, assembling, and delivering the most dependable, well engineered vertical turbine pumps in the marketplace.
Exclusive Features
Standard Stainless Impellers
All Investment Cast Stainless Pump
Ductile Iron Discharge Heads
Stainless Steel Spiders
Hydroflo Polymer Bearings
Custom Machined Adapters
Chlorine Resistant
Best In Low pH
Lead Free
Best In Saltwater
Longer Life Cycles
Abrasive Resistant
Applications
Mine Dewatering Projects
Gold, copper, zinc, and coal mining companies are using Hydroflo abrasive duty pumps for their dewatering needs. Our pumps built with standard stainless steel impellers, vesconite bearings, and 17-4PH shafting, allow the mines longer life cycles and less down time. Construction using all 316 stainless steel enables us to meet all of their engineering requirements for corrosive resistance.
Fire Protection for Offshore Oil Platforms
Hydroflo Pumps has 316SS and 304SS pump parts in stock to build the pumps needed to protect oil company drill platforms. These are the same products used in other saltwater applications and high saline water wells. Distributors and contractors look to Hydroflo for quick delivery of these specialty pumps.
Nuclear Plant Cooling Towers
Hydroflo Pumps has provided over 140,000 GPM of cooling capacity to one of the largest nuclear plants in the USA. With individual pump capacities over 30,000 gallons per minute, Hydroflo has provided many industrial and municipal cooling tower projects. Steel mills to classrooms, our engineers have met the pumping requirements.