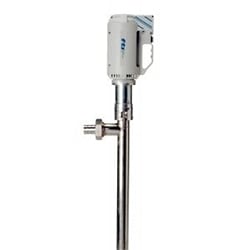 Excel Fluid Group offers Finish Thompson powered, portable drum pumps that are designed to provide safe and easy transfer of a wide range of fluids including difficult to handle liquids such as acids, bases and solvents. Containers are quickly filled or emptied without spills or splashes. Many different models and pump tube lengths are available to satisfy diverse customer requirements.
Contact Us Now for More Information!
PF Series Pump Tubes
Sealless, High Performance
Unique double suction impeller provides high flow and high head. Handles acids, caustics, chemicals and flammables.
Applications:
Acids, bases, solvents, water treatment chemicals, cleaners, plating solutions, kidney dialysis solutions, sanitary, diesel exhaust fluid (DEF)/AdBlue
EF Series Pump Tubes
Sealless, Best Value
This pump provides an economical choice for light duty transfer. Ideal replacement for hand pumps.
Applications:
Light acids and bases, solvents, plating solutions, sodium hypochlorite, cleaners, coolants, diesel exhaust fluid (DEF)/AdBlue
TT Series Pump Tubes
Sealed, Medium Viscosity/Flow
Sealed pump with PTFE screw-type lifting compressors. Ideal for liquids containing small particulate or solvents. Model STTS is sanitary construction.
Applications:
Inks, paints, solvents, sodium hypochlorite, food products
BT/HVDP Pump Tubes
High Viscosity / High Head
BT Series- High viscosity sealed design with PTFE screw-type lifting compressors for liquids up to 15,000 cP
HVDP Series- Progressive cavity, positive displacement, mechanically sealed pump for high viscosity liquids up to 20,000 cP (HR model) or 100,000 cP (LR model)
Applications:
Oils, resins, solvents, waxes, adhesives, gear lube, glycerin, silicone, lotions, polymers, honey, juice concentrate, hair and bath gel, corn syrup, etc.