Excel Fluid Group Packaged Fiberglass Pumping Stations have been specifically designed to cater for applications with the need for a lightweight, corrosion resistant and cost effective solution. Fiberglass stations are ideal for applications with limited access and are fully engineered to handle ground pressures without external support.
These stations are available with a wide range of submersible pumps including grinder and non-clog style pumps. The complete station includes piping, valves, and lift out fittings.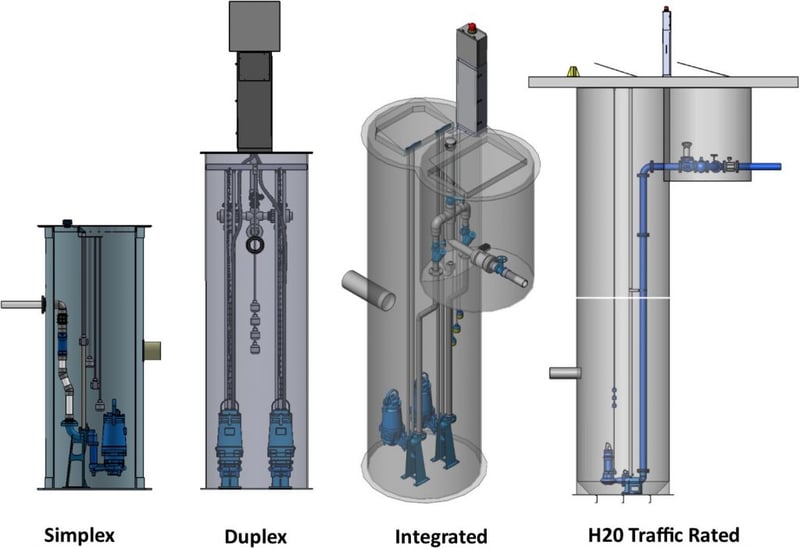 Applications:
Raw sewage
Effluent
Stormwater
Subsoil Drainage
Industrial Waste
Residential Wastewater
Institutional Wastewater
Pumping Equipment
A complete range of heavy duty submersible solids handling pumps, chopper pumps, standard and ultra-high head grinder pumps are available in either freestanding or guide rail mount. UL FM or CSA explosion proof approvals available.
Benefits:
H2S Resistant Durable Fiberglass Construction
Time-saving installation process
Eliminates differential settling concerns between wet well and valve vault
Factory assembled and tested
Accessories / Options:
Simplex, Duplex and Triplex configurations
Safety Grate under the Hatch
Bypass Piping and Valves for Portable Pump hook up
Prewired Controls and Integration
Drain back valve for the force main necessarily for freeze protection in seasonal use locations
NPFA-820 qualifying designs available