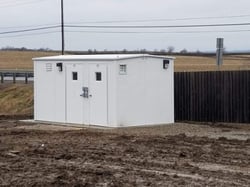 Site:
ODOT District 5
Licking County, OH
Application Overview:
Licking County Water / Wastewater worked with the Ohio Dept. of Transportation District 5 and 2LMN, Inc. Engineers to design a potable water booster pump station and new water main from Lakewood High School along U.S. 40 to the ODOT District 5 office. This system was designed to replace an existing underground fiberglass water tank located at the ODOT District 5 office.
Pump Station Overview:
The engineering team specified an Excel Fluid Group factory built booster station that included a fiberglass building with a mechanical / electrical room and a separate chemical feed room for a dosing pump and Sodium Hypochlorite day tank. A duplex vertical multistage pump skid with 10 Hp motors and variable frequency drive control panel was included to deliver up to 200 GPM per pump.
Installation:
The installation was completed by ASK Services as shown below: