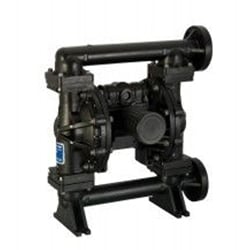 Excel Fluid Group offers Verderair diaphragm pumps as an excellent solution for applications that require more than fluid transfer. Also liquids containing solids, viscous, or sticky media will be handled without problems.
The Verderair diaphragm pump series offer a wide range of wetted materials, varying from metallic (aluminum, cast iron and stainless steel) to non-metallic (Acetal, Polypropylene, Kynar, conductive Polypropylene, Polyethylene, PTFE). Verderair air operated diaphragm pumps are easily installed and easy to maintain. They are excellent backup and emergency pumps, with capacities up to 320 GPM, at up to 230 PSI. The complete range of Verderair, Verderair Pure and Verderair HI-CLEAN air operated double diaphragm pumps are the most efficient diaphragm pumps on the market.
Verderair double diaphragm pumps have quick-acting air valves. The result is an increased productivity, reduced operational cost and improved working environment. This makes the Verderair range the most efficient double diaphragm pumps!
Increased Productivity
Higher Flow Rate, Less Maintenance
Low "pressure drop" when the liquid passes the pump chamber. Smoother flow, increased efficiency pumping the liquid. The diaphragms have a special profile which is designed for an extremely long working life.
Reduced Operational Cost
Lower Air Consumption
The quick-acting air valves change directions very fast. No compressed air is entering the air chamber when the stroke is already completed. The used compressed air is scavenged from the pump with almost no restrictions. The compressed air is only used to move the liquid!
Improved Working Environment
Less Noise
By using all of the compressed air, the pump makes less noise and the risk of freezing the exhaust is reduced.
50 Years of Experience
More than 600,000 Diaphragm Pumps Sold
With more than 50 years of experience in double diaphragm pump technology, and having sold more than 600,000 pumps all over the world, Verder continuously improves its technology to increase the efficiency of the Verderair pumps without using ancillary equipment. All other brands need ancillary equipment to enlarge the efficiency of the pump; needing no such equipment to achieve the best performance makes a Verderair the most efficient diaphragm pump.
Special Features of Verderair Pure
Solid design for perfect pressure holding & limited vibrations
No metal wetted or external parts
Possible to build pulsation dampener on top as integrated unit
Access to valve seat and balls without disassembling
Some of the Verderair's Features
Quick-acting air valve
Easy to install
Portable for multi-location use
Easy to maintain
Easy to operate
Free of air lubrication
Can run dry without damage (no run-dry protection needed)
Can run against closed valves
Non-stalling air valves
Dry self priming
No dynamic or pressure loaded seals
Special Features of Verderair VA
Bolted chambers for safe operation and easy maintenance
Rugged, cast feed mounting holes for limited vibrations
Plastic versions with inserts in pump chambers for holding optimum pressure
Materials to Choose From to Meet Your Most Severe Process
To meet your most severe process conditions, yet still having a trouble-free operation, Verderair pumps have nine different material options for the valve seat, diaphragm & balls. The combination of these high quality materials together with the choice of different pump materials give the optimum pump selection.
Acetal – Wide range of solvent resistant and withstands extreme fatigue. Good level of abrasion resistance. Electrical conductive. (Atex!).
Santoprene – Good resistance to abrasive and chemical fluids. Santoprene is compatible with some solvents (e.g. Acetone, MEK), caustic solutions, dilute acids and alcohols.
Teflon (PTFE) – Most compatible material for chemical applications, extremely resistant to corrosion and high temperatures, very low friction coefficient, non-adhesive.
Thermoplastic polyester – (Hytrel) Good performance properties at lower temperatures and good resistance to abrasive fluids. Thermoplastic polyester is often a substitute for Buna-N.
Fluorelastomers – (Viton) High heat resistance. Good resistance to aggressive chemicals including acids and some solvents. (e.g. xylene and mineral spirits). Good resistance to steam as well as animal, vegetable and petroleum oils. Resists unleaded fuels.
Geolast – Good abrasion resistance. Approximately same chemical compatibility as Buna-N.
Polychloroprene – (Neoprene) Good chemical resistance, good performance with oils and many chemicals, good temperature resistance, outstanding physical toughness, outstanding resistance to damage caused by flexing and twisting. Resistance to abrasion is approximately 30% higher than Buna.
EPDM – Good water and chemical resistance. Not for use with oils, greases and most solvents.
BUNA – Good for petroleum-based fluids, water, oils, hydrocarbons and mild chemicals (e.g. mineral spirits).
*Note: Not all combinations are available. Please contact Excel Fluid Group for more information.
The Heart of Your Pump
The air valve
Verderair has proven to be the most efficient double diaphragm pump on the market, mainly because of the engineered designs of the air valves of both series. The Verderair Pure pump is especially designed for working in severe environments. The air valve of this series is mounted in the inner of the pump. Therefore the pump efficiency is not influenced by atmospheric circumstances.
The Verderair VA series are equipped with an air valve that has a modular cup and plate design. This air valve design is re-engineered based upon the existing model used successfully in Verderair pumps for many years.
Verderair Pure & Solid
The Verderair Pure double diaphragm pump is a new, robust, high-end series of double diaphragm pumps, produced from one-piece solid material. The Verderair Pure is designed for heavy-duty operation, also for harsh liquids and severe process conditions, such as operating in power plants and refineries.
The Verderair Pure has all the benefits of a Verderair double diaphragm pump such as increased productivity through a higher flow rate and reduced operational cost because of lower air consumption. Thanks to the efficient operation there is less maintenance, and an improved working environment is created because the pump makes less noise. The Verderair Pure is available in 4 wetted part materials; each pump being made from one solid piece of the purest and finest PTFE or PE.
Applications
Chemicals transfer
Pharmaceutical industry
Solar power industry
Electronics-plating (Galvanics)
Refineries
Materials
Polyethylene (PE)
Extremely abrasion resistant. Upto 7 times better then Polypropylene. Chemical resistance is comparable to Polypropylene.
Teflon (PTFE)
Widest chemical compatibility, extreme corrosion resistance, very low frictional coefficient, non-adhesive, high heat resistance.
Conductive polyethylene
Similar properties to polypropylene but conductive for Atex applications.
Conductive teflon
Similar to PTFE, but electrically conductive (Atex!)
Verderair Non-Metallic Series
Verderair non-metallic double diaphragm pumps are excellent pumps for use in a wide range of applications across many industries. Depending on your wishes, fluid and process specifications, the best solution is selected.
Verderair VA offers four non-metallic materials to choose from. Conductive Polypropylene and Acetal can be used in Atex rated zones. PVDF is the best choice for even the most chemically aggressive media.
Applications
Ink & paper
Preparation of CIP solutions
Surface Finishing
Car wash chemicals
Water based paints
Materials
Polypropylene
Wide chemical compatibility. General purpose. Limited temperature resistant.
PVDF (Kynar)
Conductive Polypropylene and Acetal can be used in Atex rated zones. PVDF is the best choice for even the most chemically aggressive media.
Conductive polypropylene
Similar to standard Polypropylene but elecrically conductive (Atex!)
Acetal
Compatible with many solvent applications and can withstand extreme fatigue. Good resistance to abrasive media and is conductive for Atex applications.
Verderair Metallic Series
If your process fluid is abrasive, a metallic double diaphragm pump will be an excellent choice. VA metallic diaphragm pumps are offered in Aluminium, Cast Iron and SS316. A Verderair can pump just about anything!
Applications
Slaughterhouse waste
Waste water
Chemicals transfer
Ceramic slurry
Solvent based paints
Materials
Aluminum
General purpose. Good for solvent based coatings and inks. Resistant to mild chemicals.
Stainless Steel 316
Resistant to most acids, bases and solvents. Can handle halogenated hydrocarbons. Good resistance to abrasive media.
Cast Iron
Highly abrasion resistant. Often used in paper, waste water industry, and mining.