Excel Fluid Group is a North American-based pump station manufacturer committed to providing cost-effective and efficient water and wastewater solutions for engineers, contractors and developers. We offer a wide range of products and services for the municipal, industrial and commercial sectors.
Our goal for every project is to:
Offer exceptional value
Reduce installation costs
Eliminate typical field hassles
From pump station design and pump station installation to ongoing service and support, learn more about our six-step project approach below.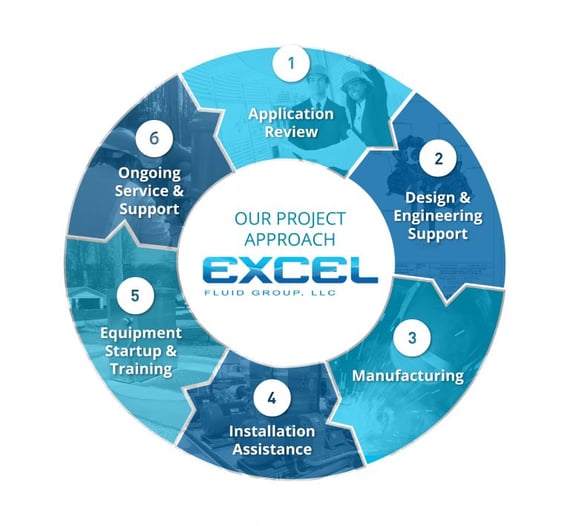 1. Application Review
We approach every project with open discussions, site visits and analysis of existing infrastructure to establish a thorough understanding of our clients' needs, expectations and to formulate a clear project report.
2. Design & Engineering Support
The Excel Fluid Group team will examine every system component with life-cycle costs in mind. Our detailed pump design submittals include overall functionality with civil, mechanical, plumbing and electrical CAD drawings. We use our experience to propose innovative solutions to reduce clients' operational costs and provide safety benefits for maintenance personnel.
3. Manufacture
For more than 25 years, Excel Fluid Group has been committed to manufacturing superior quality products to strict standards. We perform all fabrication and performance testing in a factory-controlled environment, which is subject to workplace safety and quality audits, ensuring pump stations are built to exacting specifications.
4. Pump Station Installation Assistance
Our dedicated project management team works with our clients to establish a site construction program that highlights critical timelines and milestones for your project. They will keep key contacts and operators informed of the manufacturing schedule to ensure system compliance and timely delivery. Our service team will provide pump station installation assistance at the job site so equipment is installed according to specifications and to reduce installation delays.
5. Equipment Startup & Training
We provide our clients with the opportunity to witness the factory acceptance testing and performance checks under the supervision of our project management personnel. Once the equipment has arrived and been installed at the job site, our service team will analyze system performance, flow rate, pressure measurements and perform any adjustments on mechanical and electrical components. Once the equipment is performing according to project specifications, we provide on-site training for the client's maintenance personnel and discuss preventative maintenance procedures.
6. Ongoing Service & Support
Our entire team from sales, project management, production and service personnel is available to assist clients with ongoing service of equipment we supplied and support of our products with industry-leading warranties. We can provide scheduled maintenance calls and can also provide local service contacts for remote areas.