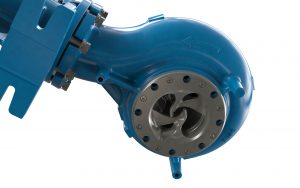 Submersible chopper pump eliminates weekly clogging issues at Southwest Licking County's lift station in Pataskala, OH.
SITE
Southwest Licking County is a rural water and wastewater district that covers about 100 square miles. The wastewater treatment plant is designed to handle 2.5 million gallons per day.
APPLICATION
Sources for this lift station are residential, including a trailer park, and several other lift stations. The sewage is pumped to the wastewater treatment plant.
PROBLEM
T-shirts, mop heads, ropes, rags and undergarments were clogging the non-clog pumps at the station consistently, and the service team had to unclog the pumps every week. Constant service calls would lead to unnecessary expenditure on man-hours, equipment and fuel.
SOLUTION
Crane Pumps and Systems devised a solution by providing our new Barnes 4S CMD SITHE 10 HP submersible chopper pump. Since the installation in June 2017, Barnes SITHE has been chopping and pumping the solids without any need for a service call. We represent numerous pump manufacturers, and our package solutions ensure accurate product selection for a long-term, cost-effective answer for any application.
"SITHE has definitely led to cost savings in man-hours, equipment cost and fuel cost from not having to come out and pull the pump to remove clogs."
- Matt Pennington, Collection Systems Supervisor
Download the full case study here.