Designing a submersible wastewater pump station may be second nature to experienced professional engineers, or it may be a daunting challenge that leaves you wondering where to start.
Excel Fluid Group has compiled a simple guide to ensure the design details are accounted for that includes a step-by-step process to simplify this mundane but critical task. The following details apply to a new pump station or rehabilitation of an existing pump station.
How to Find the Best Submersible Sanitary Pump Station for your Project
Here are some initial application questions to get started on the design journey:
Is this a new pump station design or an upgrade of an existing one? If existing, what equipment is currently installed, and what facilities are included in its service area?


If new, what type of facilities or development will the pump station be servicing?


What is the average daily flow rate (ADF) in gallons per minute (GPM) from the service area into the pump station?


If ADF is unknown, confirm the number of houses and other building types that gravity may flow to the proposed pump station. Also, you may need to consider infiltration based on local government or state EPA requirements.


What is the grade elevation at the proposed pump station location?


What is the sanitary invert elevation into the proposed pump station?


What is the proposed force main (FM) length, material type, diameter and discharge elevation at the pump station?


Are there any elevation high points or low points in the FM between the pump station and the FM discharge point? If so, confirm elevations.


Confirm existing or proposed job site electrical service details.


Define the desired sequence of operations for the pump station. Is this strictly controlled based on wet well level? Are there other criteria to consider, such as discharging into a pressure FM, or is there limited treatment capacity at the wastewater treatment plant, and the pump station can only discharge during a specific time frame?


What common hazards or challenges are you trying to eliminate or minimize with the pump station design? Electrical arc-flash concerns? Groundwater infiltration? Confined space entry? Hydrogen sulfide (H2S) corrosion? Odor control? Pump clogging? Emergency power supply? Remote monitoring and control?


Calculating Pump Flow Rate
The next recommended step is to determine the pump station flow rate and the total dynamic head (TDH) based on the discharge FM profile.
Here is an example scenario to define the process further:
100 homes x 300* gallons per day (GPD) per home = 30,000 total flow or 20.83 GPM
*Note: Water usage fluctuates through the day per home, however, a constant number is required to make a pump selection, therefore 300 GPD is an industry-accepted number per home. But this may vary depending on geographic location.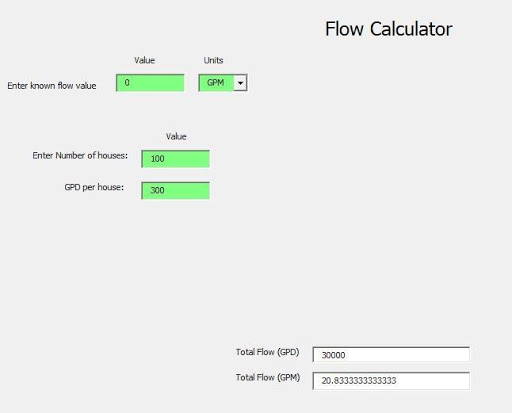 To ensure the pumps are not running for extended periods of time and to keep up with peak flow demands, a peaking factor is applied to the gallon per minute flow rate into the pump station. There is not a nationally mandated peaking factor in the United States. However, a peak factor of 3 or 4 is an industry-accepted number.

Based on the elevation numbers gathered in the initial application questions, the next step is to calculate the FM friction loss and static head to arrive at the TDH for the pump station. Below is an overview image of a pump station and FM configuration, along with the static head and friction loss calculations for our 100-home development example.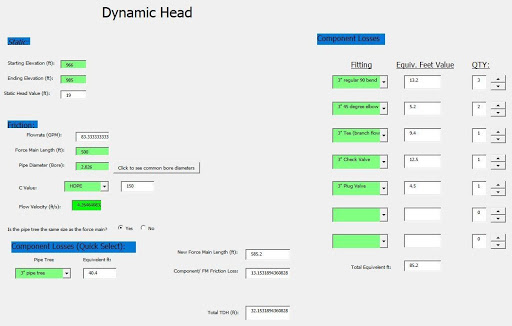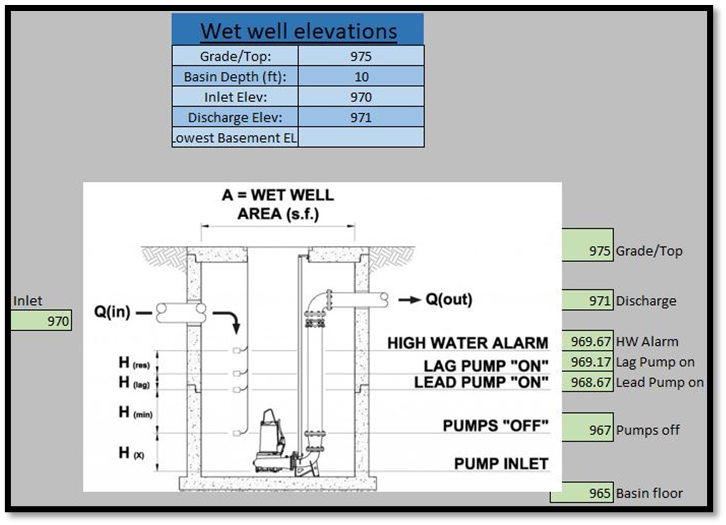 The elevations used in the dynamic head calculations show that this pump station will have 19' of static head and a 500' long 3" DR11 HDPE (high-density polyethylene) discharge pipe FM. The 13.15' of friction loss from the flow rate of 83 GPM through the FM and discharge pipe tree components gets added to the 19' of static head and the TDH equates to 32.15.
There is not a nationally mandated discharge FM flow velocity in the U.S. However, a flow velocity of 2.5 - 3 feet per second (ft/s) is recommended to achieve scouring velocity within the FM, which helps keep it clean and ensures no solids settle out and build up inside the FM over time.
Calculate Your Pump System Curve
Now that the pump station flow rate and TDH have been calculated, the next step is to create a system curve like the example below and make some submersible pump selections to review for the application. Generally, if the pump design point is less than 100 GPM, it is recommended to select a submersible grinder pump to eliminate any pump clogging concerns due to lower flow velocities.
There are numerous pump manufacturers that utilize www.Pump-Flo.com, which is a good resource to review multiple options from a performance and electrical demand viewpoint.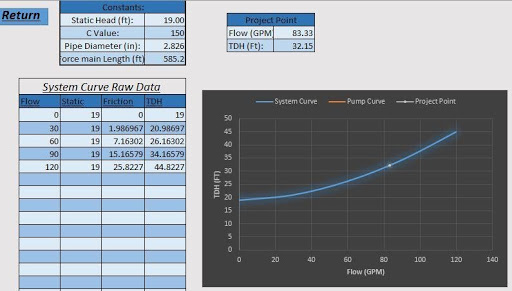 For our example, we utilized the Barnes Pump selection program, which can be accessed at crane.pump-flo.com, and made the following grinder pump selection, as it was the lowest horsepower option to achieve the project design point of 83 GPM at 32 TDH.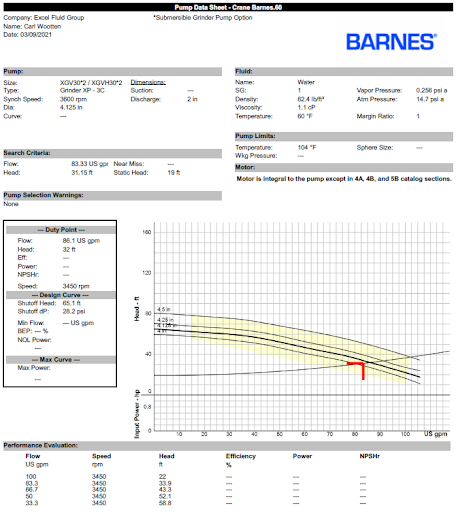 The wet well sizing is critical to ensure the pumps maintain a maximum of 8-10 starts per hour to provide longer service life and reduce premature maintenance tasks. For our development example, a 4.0' diameter wet well is recommended. To ensure minimum pump submergence and provide for adequate working volume below the inlet pipe, a 10.0' deep wet well is recommended.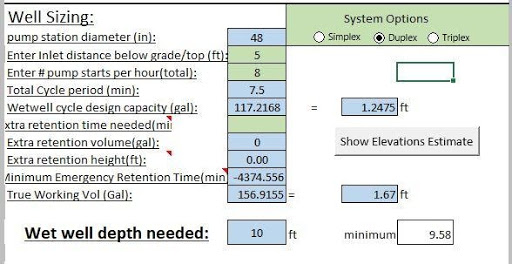 A detailed design summary of the development example is shown below, and this provides civil engineers and developers confidence that the pump station is sized correctly for their specific project application and ensures their project stays within budget.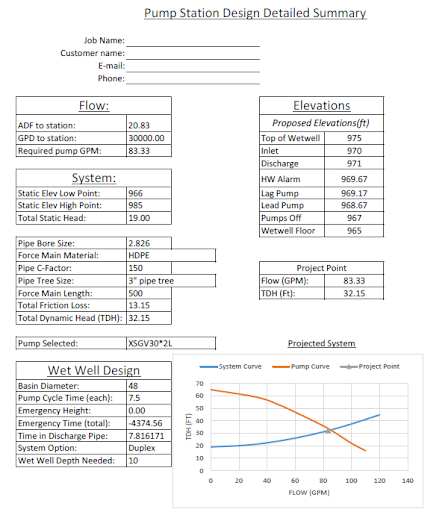 Multiple wet well options are available on the market today, from fiberglass reinforced polymer (FRP) to concrete precast to polymer concrete or HDPE, which all have their benefits and ideal use depending on the specific application and site conditions.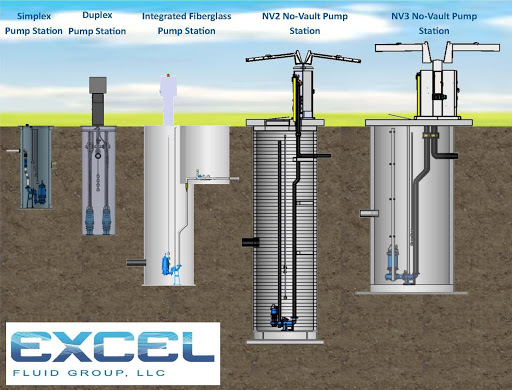 Other Things to Consider for Your Submersible Pump Project
Here are some additional details to keep in mind during the design process:
Excel Fluid Group is a proven industry resource for turnkey pump stations or custom package pump solutions. Our team is committed to assisting you with any pump station design requirements and is focused on reducing your costs and long-term maintenance challenges. Contact us today to learn how we can help with your project.