How to Decide What Emergency Power Supply is Right
Sewage and stormwater pump stations are a critical part of everyday infrastructure. However, when pump stations are needed most, they need to have crucial power to do the job they were designed for. Unfortunately, the most likely time for the power to fail is in the middle of a storm when a pump station is vital to handling the incoming precipitation or waste. At no time was this more apparent than in late 2012 in the greater New York area with Superstorm Sandy.
Since 2012, more focus has been directed to better pump station design and overall emergency preparedness in the areas greatly affected. We have been a part of projects all across the country that allow for a better back up plan. These include emergency power supplies that allow the station to work when the main power is down. This is primarily done with either portable backup generators with a manual transfer switch or a permanently installed backup generator with an automatic power transfer switch.
Portable Generator with Manual Transfer Switch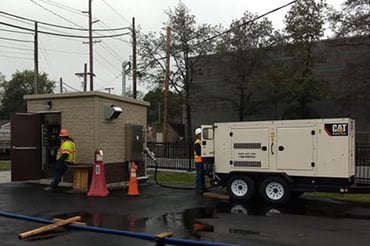 A portable generator is a good temporary solution to have when a pump station is without power during an emergency. With the manual nature of a portable generator, during a crisis someone must know the pump station has lost power from SCADA or otherwise. Then the maintenance person needs to go out to the pump station to physically connect the generator. Typically, the generator will connect with a cord and a reverse power receptacle. Then the power can be transferred by the three position disconnect manual switch. They usually come on smaller trailer mounted tow-behind units that are gas or diesel fuel powered. These smaller temporary units have smaller gas tanks. Running these generators consistently can usually only last three to four hours per tank. This is perfect for shorter emergencies but can be an added headache during longer term outages. A portable generator with a manual transfer switch is ideal to prevent disaster during a quick emergency with your pump station.
Permanently Installed Backup Generator with Automatic Transfer Switch

A generator that is permanently installed as part of the pump station's design is the peace of mind, hands free approach to having an emergency power supply. It will be hardwired directly to the pump station and with the automatic transfer switch, if it senses a power outage on the unit, it will automatically turn on the generator's power supply. Then once its senses the pump station has consistent power restored, it will automatically turn back off. Proper maintenance of a permanently installed unit should require it to be used on a monthly basis. Like with any car engine, it's best to run it periodically but also verifies that it's working before you actually need it in a crisis. However, this can easily be set up to happen automatically on a schedule.
A permanent generator is generally powered by either diesel fuel, propane, or natural gas. A diesel tank is built into the pump station stand and allows for fuel storage on site. These tanks can provide emergency power supply for up to 24 to 48 hours. A propane powered generator usually has a larger footprint at the site than a diesel generator but because of this can last longer in a predicament. Meanwhile, a natural gas generator has no fuel storage issues as the gas comes from a direct pipe. However, this does require additional set up during the install process to run a direct gas line.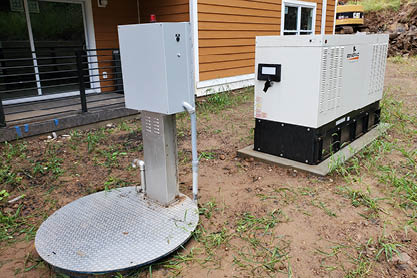 While we recommend CAT or Cummins, we can provide any brand generator with our pump stations. We hope this helps give an overview of your pump station generator options to when preparing for emergencies. We also have tips on how to design an efficient pump station or what goes into your pump station's cost. If you have any questions on your pump station application and design, contact us today!