What Goes into a Pump Station's Cost
There are a lot of factors that go into determining how much a pump station costs. For our example, one pump station could be a NoVault™ NV2 with a 6 ft. x 20 ft. concrete wet well, two submersible pumps that are 10 HP, 480V, Three Phase, with ductile iron discharge piping, an ArcSentry™ control panel with VFDs, standby diesel generator, stowaway hoist, air release valve, and flow meter. This type of pump station can range from $100,000 to $150,000. Each of the decisions we made on our example drove the cost of your pump station up or down.
Like with a car, there are many features that are essential to making it run but also some comforts that can attribute to peace of mind while in use. Wet wells come in large and small sizes and are commonly made from either HDPE, concrete, or fiberglass. Submersible pumps come in a range of sizes and can have grinder, non-clog, or chopper variations. The pump station itself commonly includes a prefabricated building, one of our NoVault™ enclosures, or a traditional below grade valve vault. The pipes running to and from the station can be made of PVC, HDPE, ductile iron, or stainless steel. How you control the pump station is up to you. There are off the shelf options, the ArcSentry™ control panel, or a complete custom design. Optional emergency backups solutions are also available. Additionally, there are other variables during the install or operating phases that should be considered. We hope this article will help you understand which factors you and your team should consider when designing your pump station.

What are the Wet Well Options?
Wet wells come in four main materials: HDPE, polymer concrete, precast concrete, and fiberglass. While they can all be used on your pump station, each material has its own pluses or minuses to use.
Fiberglass

As the least expensive wet well option, fiberglass wet wells are used in commercial lift stations and normally come factory preassembled. Optional integrated valve vaults can be included. Primarily, fiberglass wet wells we use have a diameter as small as 2 ft. and as large as 12 ft. They also range in depth from 6 ft. to 40 ft. as needed per application.
Precast Concrete
The precast concrete wet well option is created in sections stacked within the excavation. While installing in the excavation, these rings of traditional concrete are joined together with o-rings or sealant. This naturally creates longer install times on site and can lead to unplanned labor costs. These precast wet wells can be 4 ft. to 12 ft. diameter and 8 ft. to 40 ft. deep.
Polymer Concrete
The polymer concrete wet well option is assembled the same as traditional concrete but utilizes hydrogen sulfide resistant polymer lieu of cement. Unlike traditional concrete, it's nonporous, and consistent throughout the structure. A polymer concrete wet well can range from 5 ft. to 12 ft. diameter and 10 ft. to 40 ft. deep.
HDPE
Lastly, an HDPE wet well is the Cadillac of wet well materials. It's monolithic, with a 100-year design life and designed to multiple ASTM standards. Whether it's piping or a large wet well, HDPE is a flexible material. Similar to the fiberglass, we preassemble all of our HDPE wet wells to allow for a quicker install process once in the field that can save you labor costs. Even though it has the largest minimum sizing at 5 ft. diameter by 10 ft. deep, it matches the fiberglass and polymer concrete maximums with a 12 ft. diameter by 40 ft. deep possibility.
What Can Change Submersible Pump Pricing?

To bring back the car analogy, the "pumping" part of a pump station is engine. The pumps can be overly powerful like in a muscle car or can be small and efficient like a sedan. In our 30+ years of experience, the most common submersible pumps range between 2 HP and 75 HP with 2 in. to 12 in. discharges. They are available in single and three phase and all voltages. To prevent the pumps from clogging there are three main features that help combat debris.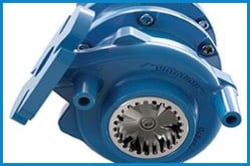 Grinder Pump
A grinder pump prevents clogging for smaller diameter piping and lower flow rate designs. Because of this they are usually the least expensive solid handling option. Grinder pumps use single or two-stage vortex impeller for medium to high head applications.
Non-Clog Pump
Non-Clog pumps are designed to pass solids per EPA requirements while keeping overall pump efficiency. These are available with multiple impellers designed with a variety of efficiencies. Since 1921, these have been manufactured for moving solids laden liquids. In more resent times these types of pumps have been challenged by new flushable items.
Chopper Pump
Due to the recent challenges of our waste stream, chopper pump are becoming a more attractive solution. A chopper pump takes the traditional non-clog pump impeller design and adds a hardened stainless-steel cutter for added clog preventing peace of mind. They are designed to chop the most challenging solids in a wastewater application. When creating these pumps, they typically go through rigorous clog testing that feed the pumps extreme solids like rope, sponges, pillows, baseballs, and even mop heads. They can reduce all of these down to solids ranging from 1 inch to 3 inches. By not having to use resources on maintenance, downtime, or replacements, a chopper pump is a great investment for your pump station and its overall lifetime expense.
What Type of Structure Should You Choose?
The structure used in a pump station is like the body of a car. It has a function to protect the inner workings of the station, but like with a car's aerodynamics, the pump station structure can come with additional benefits if you so choose.
Traditional Valve Vault
Traditional pump stations are designed with a separate valve vault next to the wet well and require separate electrical risers. Naturally, electricity outside in the elements can be difficult to maintain in inclement weather. This is also where operators or crew members can climb down in the confined space to work on the valves and/or maintenance the pump station. This can be dangerous for the maintenance personnel, and the worst nightmare of a collections system superintendent.
NoVault™ Pump Station
The NoVault™ pump station enclosure addresses many safety concerns by giving operators and crew members full access and control of the pump station above ground and without the hassles of a confined space entry. The NoVault™ eliminates the valve vault and allows for the pumps to be brought up to the surface for maintenance. Prefabricated in our warehouse and available in multiple sizes, the NoVault™ houses both the pipe header and controls inside the structure. To check out a full walk through of all the NoVault's™ features, take a look at this video.
Prefabricated Enclosures

When larger enclosures are needed, precast concrete, structural steel, and fiberglass prefabricated building options can provide space to house piping, control panels, generators, and more. Typically adjacent to the wet well, with a bigger footprint, the buildings provide ample walk-in space for easy service and maintenance access. We pre-install any components in the enclosures for you, so the building can arrive to the site and provide a quicker and easier install process. Like the prefabricated wet wells, these enclosures come completely preassembled and ultimately lead to less overall labor costs onsite during the install.
What Pipe Options are Available?
The pipes of a pump station are like the gas line or hose line to your car engine. Without them, there is no place for the wastewater to go. Normally, the pipe in a typical pump station can be as small as 2 inch diameter but can grow to the size required. Depending on the length and size you need to run, the type of piping you use in your pump station can greatly affect the cost up or down.
PVC Piping
PVC is generally the least expensive pipe option offered. It is usually utilized in smaller diameter pump station applications as it is more cost effective and easier to install than other options on the market.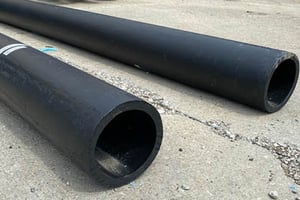 HDPE Piping
HDPE is a cost effective pipe type because it ultimately doesn't need any additional painting or maintenance out of the box to prevent corrosion. Like with the HDPE wet well, piping has a 100-year design life and is designed to multiple ASTM standards.
Ductile Iron
Ductile iron is the traditional go to piping for traditional pump station applications. However, when using it in a wastewater application, it requires paint, primer, and coatings to prevent corrosion that raises costs when all is said and done.
Stainless Steel Piping
Stainless steel pipes are the most expensive pipe on the market. It can handle higher temperatures than traditional HDPE or PVC piping while also being averse to corrosion.
What Control Options Determine Cost?
The controls of a pump station are like the car dashboard and stereo. This is where you get alerts of what is happening to your pump station. There can be a lot of information available if you decide that you need it. This can help with future headaches and prevent larger failures from happening with the proper monitoring and controls.
Off the Shelf
AA standard control panel module is frequently used in pump station. Regrettably, with an off the shelf product installed you can lose some function and alerts compared to other options in the pump station space. Additionally, these can be more dangerous to work with in certain conditions, with concerns of Arc Flash hazards.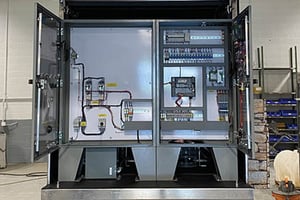 ArcSentry™
The ArcSentry™ Control Panel comes standard within the NoVault™ pump station. Its high voltage and low voltage control cabinets allow for a safe work environment with Arc Flash and electric shock locks that automatically lock the high voltage cabinet side when energized. Plus, with SCADA the pump station is able to communicate any issue back to the maintenance team, so they know where to focus their time and energy. Add in variable frequency drives (VFD) from the Pump Vision™ Controller that allows for regulated pump and machine use and this standard package covers a lot of the common issues we see.
Custom Controls
However, sometimes you're looking for a specific set up for a specific industry or application. In these scenarios, custom controls can be the way to go. Unfortunately, with custom controls, because of the usual unique one-off nature, these controls can be the most expensive option when all is said and done. On the bright side, you know you're receiving the specific control scheme for you specific need.
What Plan Should I have During an Emergency?
It is always best to have a back up plan. It can help give you peace of mind knowing that if something does happen, that you have time to fix it before the problem gets worse. Sometimes though when designing a pump station, a generator or back up isn't always in budget. This drives the overall cost down in the short term but can cause larger issues and higher costs when the station is in an emergency situation.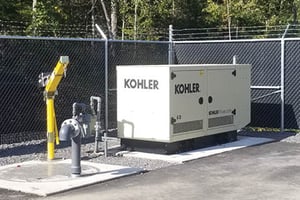 Generator
Adding a generator to your pump station saves you the worry of when something happens out of your control, like a power outage. There are two main configurations when connecting a generator to a pump station, manual transfer switch and automatic transfer switch. A manual transfer switch with a portable generator is connected during a crisis. However, with the manual nature, someone must manually connect for it to do its job. With alerts from SCADA this manual process can still be accomplished in a timely manner. Adversely, an automatic transfer switch with a permanent standby generator will automatically kick on during an emergency and run until the problem is corrected.
Diesel Driven Backup Pump
Another solution during a pumping emergency would be to equip a diesel driven backup pump. While these pumps handle most emergencies, they are also the most expensive of the common back up options. This, along with an extra pump to maintenance and additionally have fueled up and ready to go, can lead to more hassle than is generally anticipated.
What Additional Costs Effect Pump Stations?
Most of what we've mentioned so far is features and options of the pump station itself. However, there are additional costs you should be aware of when designed and implementing your pump station.
Ground Level
The terrain you're placing your pump station on can affect the amount of work and expense to prepare the site. For example, if the distance your pumping is long from the pump station to the discharge point, that will naturally incur more costs. Additionally, if the location you're placing the pump station is in a wooded or hard to navigate natural area, that can also drive-up cost due to installation access limitations.
Installation

Where and how you install a pump station can also change cost. As you would expect, the deeper the excavation for the wet well the more cost you will endure. Unforeseen hazards like groundwater in the excavation can lead to longer install times and in turn, higher site labor costs. Lastly, limitation on machinery with underground or overhead interference will also drive-up installation costs for your project.
Operating Costs
The last thing to consider when figuring out your pump station costs would be what the ongoing expenses will be. In addition to engineering design costs, permitting fees and eminent domain or property easement costs can contribute in certain circumstances. In these scenarios, we recommend using a pump station with a small footprint, like the NoVault™ so the costs are limited.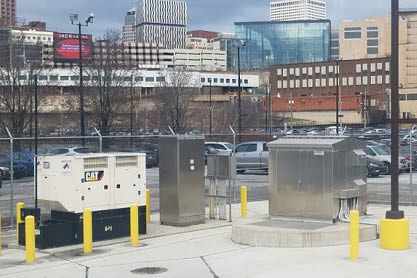 We hope this helps you with the ins and outs of all that can affect the overall cost of your pump station. Be sure to check out our article on how to design an efficient pump station. Have any questions about your next pump station application and design? Contact us today!