Why Should You Eliminate Confined Space Entry?
The safety of our workers and any personnel using our pumps stations is at the core of what we do. According to the Bureau of Labor Statistics, between 2011 and 2018, over 1,000 workers died from occupational injuries involving a confined space in the United States alone. Traditional pump station designs typically require a maintenance or operation within a wet well and a dry pit valve vault. To prevent the risk of confined space injuries, we have designed our NoVault™ pump station solution that eliminates any need for a valve vault or reason to enter a confined space.
Additionally, it provides a lifting hoist and guide rail system in the design that allows for easy pump maintenance to be done outside of the wet well on the safety grates. Trash baskets also can prevent major debris that requires less of a need to clean inside the wet well. Lastly, plug-n-play pump cords and float brackets allows for ease of access to the power. Don't want to worry about any of this? We also offer a Maintenance Plus program where our team of OHSA certified confined space experts can handle the upkeep of your pump station on an annual, semi-annual, or quarterly basis. Below are the six ways we can help you eliminate confined space entry in your pump station.
1) Design Valves Above Grade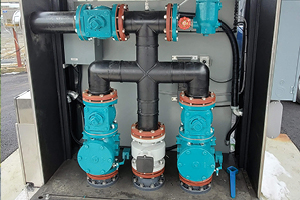 The NoVault pump station is designed to have all the valves above grade on the piping side and the ArcSentry™ control panel on the control side. This allows for any maintenance that might need completed to be done above grade. With the built-in bypass, access is easily available if your pump station stops pumping for any reason. Then there is no common reason to get into the pump station. Plus, with the ArcSentry, the pump station operation and flow control are all performed above grade eliminating the need for a dry pit.
2) Lifting Hoist and Chains for Pumps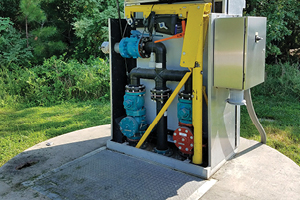 The NoVault is also designed with a lifting hoist and chains for easy access to the pumps. With access right above the wet well through hatch doors, workers are able to pull any submersible pump up and out of the wet well and place it on the safety grates to perform maintenance. The lifting hoist includes an electric hoist and extendable boom which give the ability to swing the pumps to a nearby service truck if needed as well.
3) Guide Rail System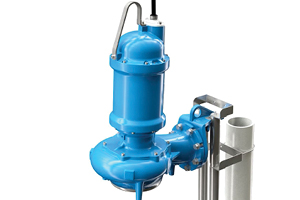 Working with the lifting hoist and chains to pump retrieval is a stainless steel guide rail system. This provides a controlled entry and exit to any pump submersible pump positioned at the bottom of the wet well with a set channel to follow. On any HDPE or fiberglass wet well, Excel Fluid Group is able to provide these prefabricated and tested in our Cleveland facilities. This allows for a faster installation and less labor time on site when they get to the excavation.
4) Trash Basket Prevents Major Wet Well Cleaning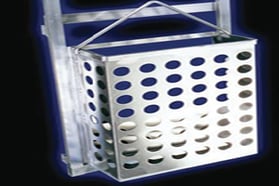 Including a trash basket in your pump station design will help prevent excessive debris coming down the inlet from fully entering the wet well. The trash basket is mounted around the inlet hub and presents a single catch point location. Not only does the trash basket prevent the need for entering a confined space to clean it but it will also reduce the build up at the bottom of your pump station. Combine all of this and it will require less cleaning from you and your staff.
5) Include Float Brackets and Plug-n-Play Cords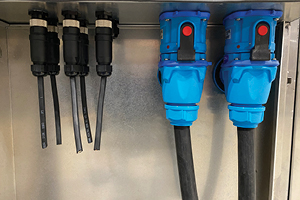 Including a float bracket mounted at the top of the wet well and plug-n-play cords provides easy access to any wiring or setting maintenance that needs to be done. With the plug-n-play cords' easy disconnect, all maintenance along and level settings are all done above grade. That is because all these are housed in a side access door as part of any NoVault enclosure. To prevent cannibalism with the cords, a strain relief prevents the floats and float cords from getting sucked directly into the pumps.
6) Get the Maintenance Plus Program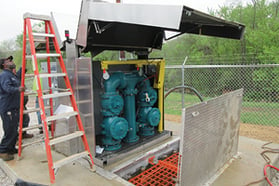 The most reliable way to eliminate any confined space entry for your team is to have us maintain your pump station. Our Maintenance Plus Program allows annual, semi-annual, and quarterly visits from our OSHA Certified confined space entry team. We'll perform pump electrical and performance checks, level control checks, valve operation, and more. This greatly reduces the likelihood of your operators ever being required to enter a confined space. Maintenance Plus has you covered.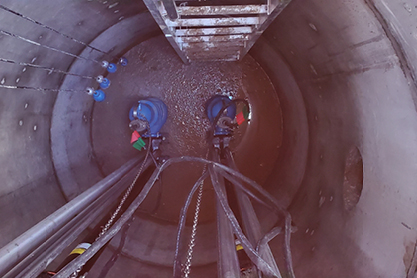 We hope this helps give you a better understanding of how you can eliminate confined space entry from your pump station. To find out more about the ArcSentry Control Panel, we have a full blog and video walk through. We also offer tips on pump station controls and remote monitoring with Pump Vision™. If you have any questions on your pump station safety, contact us today!