The NoVault™ vs. Conventional Pump Stations?
In the 1903 Horace Rackham was asked to become an investor in his neighbor Henry Ford's new automobile company. Worried about risking his savings, he went to the lending bank to get advice on what he should do. As told in Sarah T. Bushnell's published the biography The Truth About Henry Ford, the banker took him to the window and said, "The horse is here to stay, but the automobile is only a novelty — a fad." Many fads and innovations later, I think it's safe to say the banker wasn't a motorhead.
A conventional pump station design is typically a pump station with a concrete wet well and separate concrete below grade valve vault. It's a bit like the horse of the pump station industry. It's fine. It gets the job done for the most part. Everyone is used to using them. However much like the horse, it doesn't mean these traditional means can't be improved on. That's where the NoVault pump station design comes in.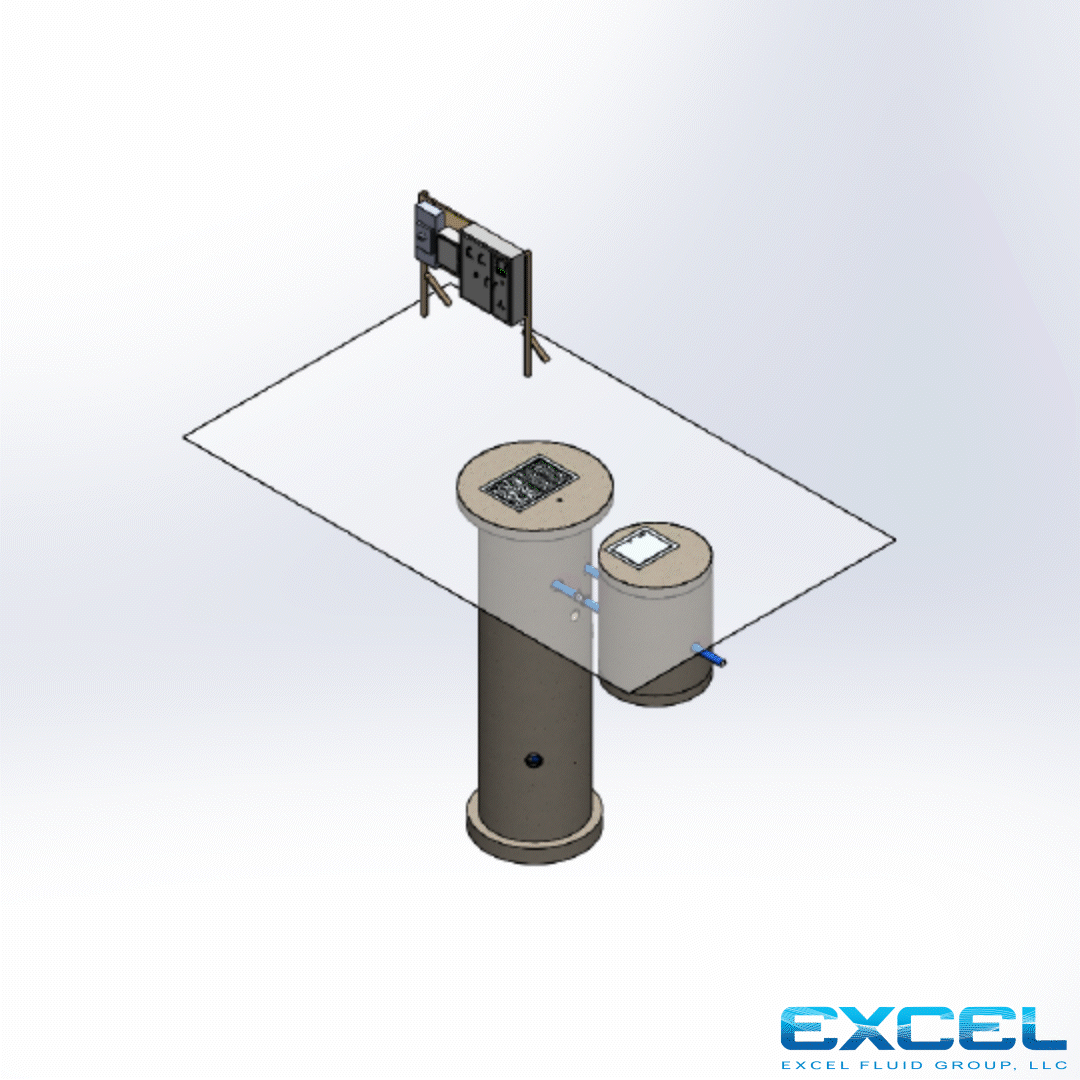 The NoVault pump station, like the name would describe, eliminates the need for a separate below grade valve vault. We'll dive into some of its features and benefits later, but our design team can modify almost any standard construction feature to meet your specific job requirements into a NoVault. It's a win-win system for the entire design, build, and maintain lifespan of a pump station. You get a safer, easier to maintain pump station while also getting a faster installation process with the prefabricated components. Additionally, we have ways to mitigate the look and feel of the above grade enclosure while getting you the most bang for your buck. Let's compare the pros and cons of the NoVault pump station design to the conventional pump station most are familiar with.
Pump Station Safety
Safety is first and foremost reason why we designed the NoVault pump station. A conventional pump station design works fine but can put service technicians in dangerous positions when the time comes to maintenance.
Confined Space Entry Elimination
Without the separate below grade valve vault, the NoVault eliminates the risk of confined space entry compared to a conventional pump station design. From the Bureau of Labor Statistics, between 2011 and 2018, 1,030 U.S. workers died from occupational injuries involving a confined space. The NoVault brings all of the valves, flow meter, bypass, air release, and pressure gauges into a temperature controlled and insulated enclosure that can be serviced above grade. In comparison, maintenance personnel working on a conventional pump station design must enter the underground valve vault to service the system.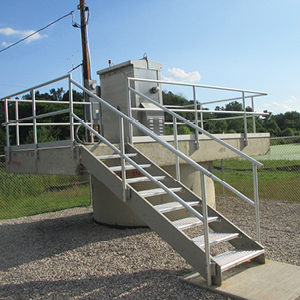 Many sewage pump stations are installed in a low-lying area. This is so that the sewage gravity piping can take advantage of the natural grade change. This can increase the risk of flooding as many pump stations are installed near a natural water way. The EPA requires pump stations in flood zone areas to be accessible for maintenance during all weather events. The elevated Flood Zone NoVault pump station from Excel Fluid Group can eliminate hazards associated with service during a flood.
Maintenance Crew Shelter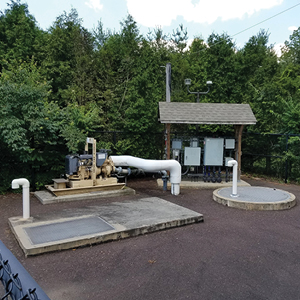 As most maintenance crews can attest, pump stations never seem to go down between 8:00 and 5:00 on a sunny day. Most often a pump station fails in severe weather or other catastrophic events. We've designed the NoVault with gull-wing doors that can provide some overhead shelter from the elements, while, also including LED lighting. This lighting provides ample illumination of the piping and controls so a worker doesn't have to fumble with a flashlight or other remote sight lighting.
ArcFlash Mitigation
Electricity and water don't mix. Unfortunately, you need both in order to make a pump station operational. A report published in Industrial Safety and Hygiene News, based on 2019 statistics, estimated that there are 30,000 ArcFlash incidents every year. The Electrical Safety Foundation International (ESFI) published an electrical injuries report that said in 2020 alone there were 126 fatal electrical injuries. Conventional pump station designs include control panels that are prone to ArcFlash hazards due to the high voltage and low voltage components being inside the same panel enclosure. This increases the electrical risk for operators and maintenance personnel, and we are confident there is a better and safer way that can minimize or eliminate ArcFlash hazards within pump station control panels.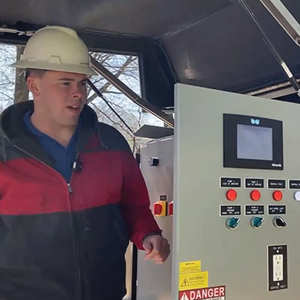 The NoVault includes the ArcSentry™ control panel which separates the high voltage components into a separate cabinet from the low voltage components. This design only allows access to the high voltage components once power is completely shut off by utilizing an electrical and mechanical interlock that automatically locks the high voltage enclosure while the panel is energized. Like a public servant committed to keeping their crews safe, the Excel NoVault design keeps technicians protected from the exposed design flaws that the conventional pump station designs can leave them vulnerable to.
Additionally, the pump plug and receptacles included with the NoVault allow for easy plug-n-play connect and disconnect of pump power cables. This allows technicians to disconnect the pump cables from the power source protecting them from being exposed directly to the high voltage and eliminates any field wiring. The Excel NoVault also includes a wire trough that allows pump cables to be set into rather than needing to be pulled through conduit underground.
Pump Station Above Grade Features
By design, the NoVault brings all the mechanical valves and controls above grade into the NoVault enclosure. There is a myth that a conventional pump station doesn't have anything above grade compared to a NoVault. This is false. As you can see in the images below the Conventional design (Figure A) has an electrical riser that is an above ground structure providing all power components to energize the pump station. The NoVault pump station (Figure B) also has the electrical components aboveground but with as many as possible installed behind locked doors to minimize weather exposure, improve aesthetics, and protect from vandalism.
| | |
| --- | --- |
| Figure A: | Figure B: |
| | |
A typical conventional pump station design requires a separate above grade electrical riser structure. This commonly has the power disconnect, meter base, pump control panel, junction box, SCADA or telemetry system, transfer switch, generator receptacle, and any additional electrical components. We have seen quite a few elaborate electrical riser designs that clearly are trying to duplicate the features that are standard to the NoVault pump station (Figure C). The Excel NoVault pump station does not eliminate the need for any of these electrical items but includes them within the NoVault enclosure. The NoVault comes standard with extra breakers to allow for custom set ups like area flood lights, standby generators, and more.
Figure C: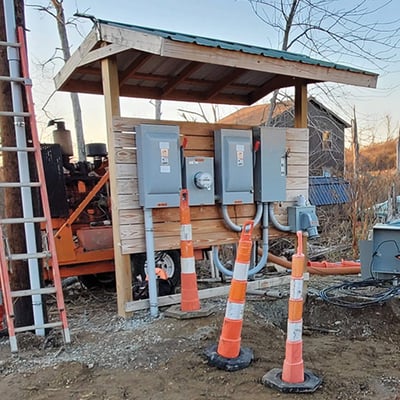 Lifting Hoist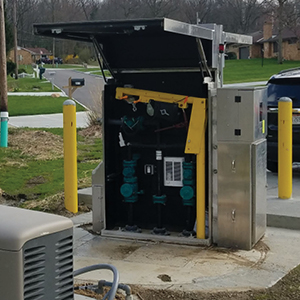 The NoVault allows us to include an electrical winch on our lifting hoist within our standard enclosure powered off of one of the extra breakers. The common NoVault design allows the powered hoist to swing out directly over the hatch doors from its position. In contrast, if a conventional pump station even has a lifting hoist, it is mounted out in the elements. This highlights the fact that many conventional pump station designs can be more difficult or involve more of a process to remove a pump from service. Maintenance teams are forced to pull pumps out of the wet well with an expensive crane truck or set up portable hoists that takes precious time.
Pump Station Visual Impacts
The only downside we've heard about the NoVault above grade enclosure is that having an above grade enclosure can be seen by some as a blight. With many stations being placed in residential areas, we can help ensure that the enclosure will blend in with its surrounding as required. Not only does a NoVault typically have a 50% smaller footprint than its conventional pump station counterpart, but we can provide exterior coverings on the enclosure to help camouflage it in the area. Our basic covering options include an arborvitae, red brick, and sandstone look but we can add whatever look you want to your station. Alternatively, a conventional pump station's electrical riser almost always has that industrial or wooden four-by-four look (Figure D) and can be an eyesore in the neighborhood.
Figure D: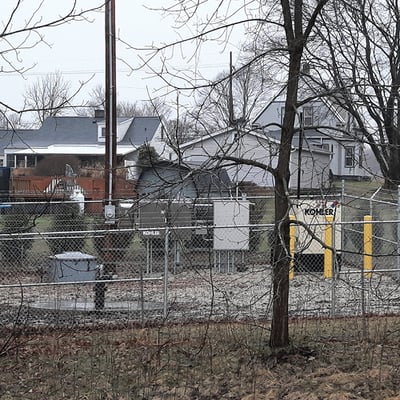 Pump Station Installation Process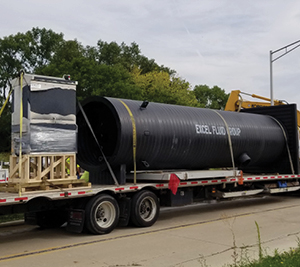 At Excel, we design a pump station in view of preassembling components, so you know once they arrive on site, they're ready to install. A pump station installation has many facets including excavating, shoring, dewatering, rigging, plumbing, electrical, and more. The NoVault works to reduce these tasks while a conventional set up only adds to them. We've calculated compared to a typical conventional pump station design, the NoVault can save you up to 75% cost on electrical installation alone. A lot of cost on the installation comes from benching the excavation, laying conduit, building the electrical riser and more. Additionally, with the NoVault eliminating the valve vault, you eliminate the need to bench the excavation, when a trenchbox is used.
Conventional Pump Station Installs
A conventional pump station is traditionally built out of concrete for both the separate wet well and valve vault. Concrete wet wells are built from individual concrete rings which are all stacked at site in addition to the separate valve vault. This makes it impossible to fully prefabricate though we can built the piping tree in our factory and send it to site. Furthermore, when designing and installing a conventional pump station you must take into account differential settlement between the two separate structures. Not only does this add to the install time but could become an expensive headache throughout the lifespan of your station.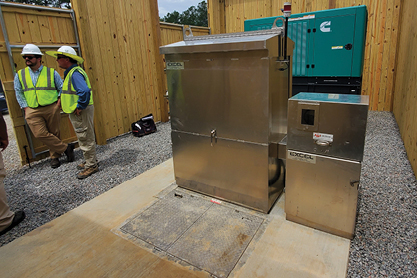 We hope this helps give you a better understanding of what the NoVault pump station design offers compared to the conventional pump station design. In case you're wondering, Horace Rackham did go against his banker's advice and invested in his neighbors' Ford Motor Company for just $2,500 (about $85,000 today). The happy ending to the story is only five years later, the stock split 20-for-one. To learn more about innovations in the pump station industry, check out our blogs on Submersible Pumps vs. Self-Priming Pumps or Which Pump Station Design is Right for You. If you have any questions on your next pump station design, contact us today!