How Do I Know What Pump Station Design is Right?
Excel Fluid Group approaches every project with an open discussion. Site visits, analysis of existing infrastructure and evaluation of potential performance issues establish a thorough understanding of your needs, examining every system component with both initial investment and life cycle costs in mind. This is all part of our six step Design Process that ensures we have a complete understanding of what you want and are expecting in your next pump station.
Define Requirements:

We determine what the project requirements are based on projected flow rates and head conditions.

Analyze Pump Curves:

We examine the pump's system curve to confirm we meet the project requirements

Wet Well Sizing Calculations:

Once we confirm the invert depth below grade, we are able to calculate the working volume to ensure we have sufficient capacity.

Sales Concept Drawing:

This gives a visual representation of what you can expect from your pump station.

Write Technical Specifications:

They allow you to have the details of what to you can expect to receive with your pump station.

Budgetary Proposal:

This final step in the Design Process gives you the lead time and the pricing to confirm that your project is within budget and meets the project timeline.
We have been in the pump station industry for more than 30 years. This has allowed us to design and build custom pump stations, conventional pump stations, and even produce our own pump station design with the NoVault™. We've also have worked with wet wells built from concrete, fiberglass, and high density polyethylene (HDPE). We will take you through the pros and cons of each type of design to help you decide which pump station is right for your project.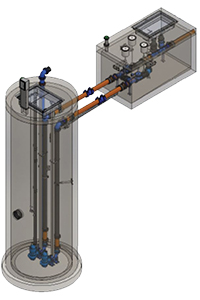 Conventional Pump Stations
The most common pump station design is the conventional pump station. Typically built with concrete (though we have traditionally seen fiberglass used in Southern states and warmer climates), the conventional pump station design separates the wet well and valve vault in two complete separate below grade structures. The separate valve vault usually contains the check and shut off valves, with the option to include a flow meter, bypass, air release, and pressure gauges. This design does still need to include an electrical riser or some other power source to use the above grade control panel.
Compared to the pump station designs you'll see later, conventional pump stations usually have much larger footprints with the two separate structures. This can make it hard to fit in areas with limited space. Additionally, with the separate wet well and valve vault you have to be cognizant of differential settlement between each structure. This separation can cause costly maintenance and repair issues. It's both safer and more convenient to perform maintenance on a pump station above grade, rather than in a confined space vault. According to the Bureau of Labor Statistics, between 2011 and 2018, 1,030 workers died from occupational injuries involving a confined space in the United States alone. Lastly, when contractors are building a conventional pump station, typically most of the parts are sourced from many separate companies. This can be difficult to ensure all of the components of your pump station fit and are tested to work together. While a conventional pump station might be the most common, its stagnant design and traditional processes leave a lot to be desired.
| | |
| --- | --- |
| Pros | Cons |
| Most Common Industry Type | Larger Footprint |
| Traditional Set Up | Differential Settlement |
| | Confined Space Entry |
| | Multiple Vendors Required |
Concrete Pump Stations
Similar to the conventional pump station, concrete wet wells are commonplace within the pump station industry. Concrete is readily available and used frequently for manholes. It can be supplied anywhere in the country and contactors are very familiar with it. Depending on diameters and depths, we regularly see the total cost of the pump station range as low as $25,000 for a very small one to around $300,000 for a large triplex system.
A concrete wet well can be used mostly without treatment in a stormwater application but needs admixtures and liners to be used effectively in a wastewater application. Without treatment a concrete wet well in a wastewater application only has a design life of about 20 years. This is because concrete wet wells are very susceptible to H2S corrosion that compromises the wet well structure. They can also allow groundwater infiltration in the wet wells which causes additional run times and wear on your pumps. From experience, we once supplied pumps on a concrete pump station put together with multiple vendors by a river. Silt from the river infiltrated the pump station and the sand and debris wore down the impellers and seals causing premature failure of the station. In all we have seen it costs up to $25,000 for the coating and treatment to be lined on the interior of the wet well. This is usually done as part of the install process and not only forces more on-site labor hours but causes a forced confined space entry into the wet well.
Additionally, install times tend to be longer with concrete wet wells on account of the number of rings it takes to build up the well on site. As the pump station get larger in diameter the shorter the rings get due to weight limitations. The more rings there are, the more it costs to ship them. Also, as a result of the rings shipping separate, it is impossible to prefabricate and ensure testing completely. While the piping, guide rails, inlets, and more might be built by one supplier, they typically need to be taken part to ship to site. This naturally causes longer install times with more liabilities at play with excavation exposure, dewatering challenges, shoring rentals, and more.
| | |
| --- | --- |
| Pros | Cons |
| Most Common Industry Type | 20-year Design Life Pretreatment |
| Readily Available | H2S Corrosion |
| Generally Accepted in the Engineering Community | Groundwater Infiltration |
| | Impossible to Preassemble Completely |
Fiberglass Wet Wells
While both have been used within the pump station industry for years, unlike with concrete wet wells, fiberglass wet well can be built fast and come preassembled to site. They are H2S resistant and typically have a design life of about 40-60 years without the need for any additional coatings or liners. Additionally, once they are on site, they are lightweight and can be set within an excavation without a large crane. Don't mistake the lightweight design as weak because fiberglass wet wells are designed for the same ground and hydrostatic pressures as its concrete counterpart. We offer fiberglass pump station in three different set ups: Traditional, Integrated, and Traffic Rated.
Traditional Fiberglass Pump Station
A traditional fiberglass pump station design is used primarily in a duplex grinder pump stations. With this smaller set up, there is less piping and generally costs between $15,000 and $50,000.
Integrated Fiberglass Pump Stations
An integrated fiberglass pump station is a monolithic structure that includes a connected valve vault separated by an interior wall. Even with a valve vault included, the monolithic structure has a smaller footprint compared to a conventional concrete pump station. These can range anywhere between $30,000 and $80,000.
Traffic Rated Fiberglass Pump Stations
Lastly, traffic rated fiberglass pump stations are perfect for pump station placed in or by roadways or parking lot area. The reinforced hatch cover meets the American Association of State Highway Transportation Officials' H-20 load rating to handle 16,000 lbs. wheel load and therefore a 32,000 lbs. axle load. These stations mostly vary from $50,000 to $115,000.
Fiberglass wet wells are a nice alternative to concrete in most applications. However, they become less cost effective in larger structures. We tend see this in fiberglass pump stations larger than a 6 ft. diameter and any that are deeper than 30 ft. If you have a station wider and deeper than that and want to avoid some of the headaches that comes with concrete, what should you do?
| | |
| --- | --- |
| Pros | Cons |
| Preassembled Fast Installation | Not Cost Effective in Larger Structures |
| 40-year Design Life | |
| H2S Resistant on its Own | |
HDPE Wet Wells
For larger pump stations where H2S corrosion and leaking at seams must be avoided, the Weholite® HDPE Pump Station is ideal. No additional coating or admixture is required to protect the wet well. It is prefabricated and fitted out with piping prior to shipping to the site. HDPE comes with a 100 year design life, more than three times the expected life of concrete. The structural design effectively utilizes a double wall perfect for total leak avoidance, critical in applications like leachate while meeting EPA guidelines for landfill effluent. Weholite HDPE pump stations are most common in 5 ft. inside diameter to 11 ft., with depths as shallow as 10 ft. but as deep as 50 ft.
The design satisfies the demands of any application as a premium solution, and typical costs for a complete pump station using Weholite HDPE is between $100,000 and $300,000. The wet well costs more than it's concrete counterpart but is offset substantially by ultra-long design life, eliminating the need for re-coating maintenance, and accelerating installation time substantially. It's an innovation in the packaged pump station space with a rapidly growing installation base. While typical lead time is longer than concrete, we have worked to reduce delivery times by stocking raw material and becoming a Weholite HDPE approved fabricator of pump stations.
| | |
| --- | --- |
| Pros | Cons |
| Monolithic Structure | Higher Upfront Cost |
| H2S Resistance with No Additional Coatings | Not as Common Within the Industry |
| 100-year Design Life | Typically Longer Lead Time |
| Prefabricated for Faster Installation | |
| Double Walled for Leachate Applications | |
NoVault Pump Stations
Now that you probably have a general idea of the type of wet well, you'll need for your project, lets revisit the pump station design. We mentioned before, some of the hazards and pitfalls of a conventional pump station design. That is why we built the NoVault™ pump station that works with either a concrete, fiberglass, or HDPE wet well. It eliminates the need for a separate valve vault because we bring all the valves, flow meter, bypass, air release, and pressure gauges above grade in a temperature controlled and insulated environment. We also include the controls in the ArcSentry™ control panel on the inverse side of the enclosure. We build and test them all in our Cleveland, OH facilities to ensure they arrive to the job site ready to be installed. We also routinely include a polymer concrete flat top that provides a strong and prefabricated cover to decrease on-site time.
Considering all of the controls, valves, and enclosures are all brought above grade the NoVault can't be a part of a traffic rated design. Additionally with it being above grade, the enclosure could be more visible to the public. To counter this, we provide vinyl wraps in red brick, arborvitae, and sandstone to help it blend in with its surroundings.
| | |
| --- | --- |
| Pros | Cons |
| Eliminates Confined Space Hazards | More Visible to Pedestrians |
| Factory Preassembled and Tested | |
| Compact Footprint that Enables Less Utility Easements | |
We hope this helps give you a better understanding of what pump station design is right for your next project. Check out our blogs on what affect your pump station's cost and how to design an efficient pump station to learn more If you have any questions on your next pump station design, contact us today!