Factory vs. Field Assembled?
If you are a developer or utility contractor and need a stormwater or sanitary wastewater pump station for a project, what is the best way to go about sourcing this system? The answer depends on a few key factors. Are you looking for a stream-lined solution from one company that has in-house project management services, value-engineering capabilities to minimize risk? Or, are you set up to self-manage a complex supply chain and ultimately be responsible for the overall functionality and performance of the pump station? A key factor is how much risk are you willing to take on, and is there a better way to complete a project under budget and ahead of schedule? We wholeheartedly believe that there is a better way.
Let's look at what typical steps are included in a pump station project and explore ways how these steps can be reduced or managed more efficiently. Obviously, the end goal is the same with a field assembled pump station versus a factory built prepackaged pump station, get a working pump station in the ground that performs as designed meets quality expectations. However, have you thought if multiple steps could be combined or coordinated more efficiently to reduce onsite installation time?
Pre-Bid Pump Station Project Approach
As a real world example, let's envision two utility contractors both receive notification of a new collections system, pump station, and force main project that's out for bid in a month's time, for a local municipality. The project scope includes numerous gravity manholes, sanitary sewer lines, a conventional concrete precast pump station, precast valve vault, flow-meter vault, air-release vault, and the new force main to be installed within a 6-month construction schedule. Additionally, there is a new electrical service required for the pump station, along with a control panel riser and all incoming electrical switchgear. There are hundreds, if not thousands of civil or utility contractors that perform this work across the country every year, so why should we change anything and how can it be improved?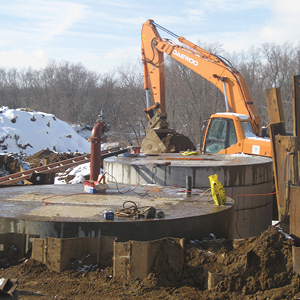 Any contractor in our project example will be required to understand the full project scope and requirements of the specifications and drawings. They also would work to compile specific material lists and quantities, along with contacting numerous vendors for quotes on all non-commodity items. When a contractor is bidding multiple projects at once, along with actively managing a construction backlog, this can lead to scope gaps in bid estimates and be a stressful job environment to work in. Conversely, in a factory preassembled pump station, the entire pump station is single sourced. Our recommendation is to partner with an experienced turnkey pump station provider for these types of projects, to minimize scope gaps, reduce risk and exposure to items being missed in the bid. We like to say, there's only one phone call for all things related to the pump station. Additionally, with a team specifically focused on pump stations, you receive a more efficient and cohesive product. With experts in the industry, the possibility to find value engineering opportunities within the scope of the project specifications becomes much greater. Conclusively, a package solution will save you money.
Pump Station Build Approach
With the contractor field assembled approach, once a project has been awarded, there is a litany of tasks and supply chain management duties that must be executed to coordinate delivery to the jobsite and ensure installation within the project timeline. This includes sending out purchase orders to numerous different vendors to receive project specific submittal documentation, and then compiling each vendors submittal data into one concise packet for engineering review and approval. Once the submittal has been approved by the engineer, then the contractor would release all components for production. The key concern to keep in mind, is that if there is any equipment interferences or scope gaps, they won't be revealed until the onsite installation phase starts. This can lead to frustrating installation delays and contribute to high levels of tension between the contractor and the various suppliers working to clarify what is their responsibility, and what is that of other suppliers. Ultimately, the nightmare of liquidated damages benefits no one.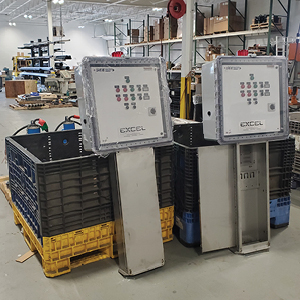 The factory preassembled approach works to solve all the challenges that contractors face with the field assembled method. Once a project has been awarded, the contractor can place a single purchase order to one vendor to complete the entire pump station submittals and provide clear 3D pump station drawings that give them confidence that nothing has been overlooked and eliminates the possibility of scope gaps between multiple vendors. Once the pump station submittal has been approved, the factory preassembled method brings all components into a quality-controlled environment where they are assembled and tested as a turnkey system, prior to being shipped to the jobsite. This approach ensures there are no onsite installation delays due to components not functioning as designed. The factory preassembled pump station is delivered to the jobsite for the contractor's team to install into the excavation.
Pump Station Installation
During the installation process of a field assembled pump station the pump station must get built. This requires all parts to be connected in the field away from a warehouse. A worry during this process becomes having the right tools and man power to get the job done. Without the right parts or tools, you can delay complete installation and ultimately the whole project. From there the contractor must coordinate the start-up with multiple parties making sure each of their parts work correctly. This can include the pump supplier, electrician, and others. From there, the contractor has to go through the process of gathering all the IOM manuals from the individual vendors and providing them to the end user.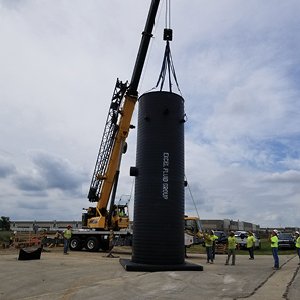 In a factory preassembled install, once the station is ready for startup and training, the contractor only needs to contact one firm, instead of coordinating multiple vendors' schedules to ensure this is completed. Additionally, the factory preassembled approach provides quality "as-built" drawings that are included with the pump station installation, operation, and maintenance (IOM) manuals instead of forcing the contractor to again compile data from multiple suppliers to complete the required IOM manuals.
By partnering with a turnkey pump station supplier with the following in-house capabilities, you will ensure your pump station project is executed to the highest levels of quality, flexibility, and puts the complete pump station warranty back on the pump station supplier instead of exposing the contractor to long term risk and headaches.
ISO 9001 Certification
ISO 9001 is the international standard that specifies requirements for a quality management system. This provides you with the peace of mind that your pump station is built to the highest standards in the industry.
3rd Party Engineering Approval
Getting a non-bias party signing off on any design is crucial. Knowing that you are getting a pump station that has been reviewed by an outside engineering firm ensures that your design is going to be what you expect once it arrives.
UL Panel Shop
In a preassembled pump station having the electrical components like a control panel installed and ready for power dramatically reduces installation time and cost. Using a UL508A or UL 698A panel manufacture gives you the insurance that they're tested and installed to specification.
HDPE Fabrication Capability
HDPE wet wells arrive to site prefabricated, pre-plumbed, and ready to install in the excavation. Additionally, with a 100 design life, HDPE pump station fabricators are able to provide the monolithic structure as built per AASHTO and ASTM standards.
Inhouse Testing Ability per Hydraulic Institute Standards
Getting a pump station preassembled in a factory provides the opportunity to test every component of a pump station before it arrives on site. This once again provides a level of comfort to the engineer and contractor knowing that it'll arrive in pristine condition.
Turnkey Factory Warranty
Similar to the massive benefit of one phone call for everything related to the pump station, a turnkey factory warranty provides you with a level of relief knowing that every single component of the pump station has the same contact for warranty.
Ongoing Maintenance Program
Continual upkeep is always important on any pump station. This is why we provide our Maintenance Plus program that gives annual, semi-annual, and quarterly visits to your station. We'll perform pump electrical and performance checks, level control checks, valve operation, and more.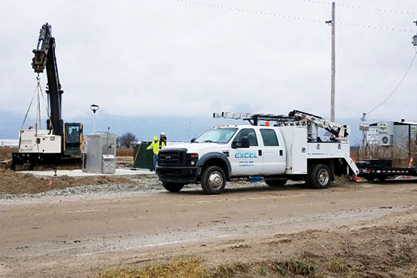 We hope this helps give you a better understanding of the benefits a wholistic factory assembled approach can provide, compared to a piecemealed field assembly. Purchasing a pre-packaged solution solves numerous challenges and you effectively get a project manager on your team included for free. To learn more about innovations in the pump station industry, check out our blogs on the NoVault™ Pump Station Design vs. a Conventional Pump Station or Submersible Pumps vs. Self-Priming Pumps. If you have any questions on your next pump station project, contact us today!