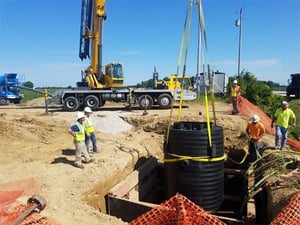 Repair or replace?
We're often faced with this question when it comes to any equipment, and pumping stations are no exception.
And much like lawn equipment, home appliances, electronics and automobiles, deciding between pump station repair and replacement can be difficult, no matter if you're:
A public works director and need to support long-term city planning
An operator and can't afford to have a failed pump station
An engineer with the goal of achieving long-term durability and low maintenance costs
In this blog, we'll discuss some of the determining factors and when it makes the most financial sense to repair or replace a pumping station.
When to Repair or Replace
From pump station design to pump station installation, we have provided complete water and wastewater solutions for engineers, contractors and developers for municipal, industrial and commercial applications.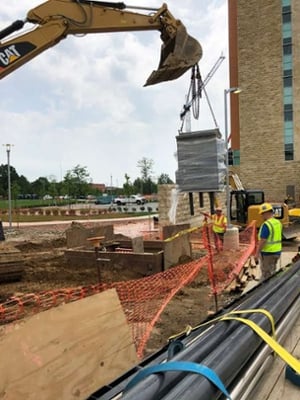 As a public works director, operator or engineer, you should want something that's going to be installed and working for another few decades, and putting a Band-Aid on something generally doesn't get you there.
In the case of new development on existing infrastructure, if a pump station was installed in the last 10 years, it's important to analyze what the average daily flow rate is and whether the existing infrastructure can accommodate an increased flow rate. If not, you need to replace the pumps and potentially the complete pump station because of the increased demands.
One solution is to build a new pump station right next to the old one prior to decommissioning the old one. This will save you on bypassing, where you have to purchase or rent equipment to bypass the old pump station that was demoed prior to getting the new one constructed. If you build a new pump station next to the old one, you can keep the old one in action, and your switchover, or bypassing, is limited to hours rather than weeks or months.
Another reason your pump station is in bad condition may be due to your pump station being near the end of its service life. This could be caused by H2S corrosion or increased solids in the waste stream. The service life of a pump station can be increased by using products such as HDPE (high-density polyethylene) wet wells, which are H2S-resistant and chopper pumps that can handle solids that would clog a typical non-clog style pump. This may have increased upfront costs that can save money long-term with reduced maintenance costs.
In that case, consider the following:
Since this pump station has been built, what other changes happened to the infrastructure?
Has there been an increase in flows?
Is this pump station near the end of its service life?
If there's been new development, chances are that pump station was not designed for an increase in flows because it was built years ago.
If it's just a matter of repairing a pump that has a mechanical seal issue, it's recommended you replace individual components of the overall system. However, if you need to support new infrastructure or new development—even if the existing equipment is running perfectly fine—it will need to be replaced because it won't be able to handle the capacity that will be generated by that development.
Municipalities and the Environmental Protection Agency
When determining whether to repair or replace, the EPA will mandate municipalities if they have deteriorating infrastructure. Municipalities have to adhere to environmental standards to maintain infrastructure, and the EPA will sometimes dictate whether they have to replace it. Budgets play into it.
A correctly operating system runs not just maintenance-wise, but also financially. Municipalities should be setting aside funds in anticipation of failure. There are also funding initiatives that are available from the federal government as well as state governments for repair/replacement of existing failed infrastructure.
When funding is a challenge, there are many sources of grant money that's not just limited to repairs. Municipalities can use that same money for upgrades/new development.
---
Discover what makes the Excel Fluid Group project approach different (and more effective) than the traditional approach in this free ebook.
---
Pump Station Maintenance
Excel Fluid Group has a specialized repair facility capable of rebuilding almost any pump brand with a large stock of replacement parts and pumps to ensure your pump station is operational. Whatever the style or brand of pump, we will provide you with a prompt evaluation and repair quotation so that you can have your equipment back up and running.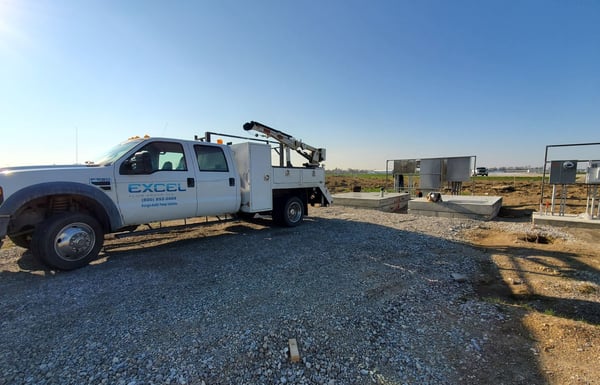 Excel Fluid Group can service/supply a wide range of pumps, including:
Submersible pumps
Centrifugal pumps
Self-priming pumps
Magnetic drive pumps
Lobe pumps
Progressive cavity pumps
Peristaltic pumps
Vertical turbine pumps
Our service team has been developed and expanded with fully qualified technicians and will replace or install your pumps on-site. We also offer regularly scheduled preventative pump station maintenance checks. These service calls are highly recommended and available for most pumping equipment.
Now that you know some of the deciding factors for pump station repair and replacement, you can confidently make a decision that's in the best interest of everyone involved. When it comes to pump station repair vs. replacement, there isn't always a clear right or wrong answer. You could do either. It all comes down to intelligently appropriating funds.
At Excel Fluid Group, we approach every project with open discussions, site visits and analysis of existing infrastructure to establish a thorough understanding of our clients' needs.