The Top Seven Water Booster Pump Station Manufacturers
At Excel Fluid Group we pride ourselves on designing efficient and custom water booster pump stations. We have installed pump stations all over the United States and even a few internationally. However, we also know researching which pump station manufacturer you and your team want to work with takes a lot of time and resources to make sure you're meeting each application's unique requirements, specifications, and performance. It is our duty to work with and inform our customers as much as possible before they make their water booster pump station choice. That is why we have compiled this list of respected water booster manufacturers.
1) Metropolitan Industries
Out of Romeoville, in the greater Chicago, IL area, Metropolitan specializes in manufacturing prefabricated packaged systems that provide solutions for reliable water supply and treatment.
2) EFI-Solutions
On the other side of Illinois in Centralia, EFI-Solutions (formerly Engineered Fluid Inc) focuses on preassembled water booster process systems for practically any industry.
3) Precision Pumping Systems
From Boise, ID, Precision Pumping Systems concentrates to manufacture packaged water booster solutions for municipal, industrial, and irrigation projects.
4) Xylem
In Rye Brook, NY near the city, Xylem makes clean water, sanitation, and hygiene education their focal point. From collection and distribution, to reuse and return to nature, Xylem creates industrial water centric water booster applications.
5) Dakota Pump
Dakota Pump from Mitchell, you guessed it, South Dakota, manufactures water booster pumping systems, sewage systems, and pump stations, as well as services replacement parts.
6) Gorman-Rupp
Also in Northeast Ohio, Gorman-Rupp in Mansfield spotlights water booster pumps and pump systems. They offer design and construction of efficient and serviceable pumps throughout many industries.
7) Clay-Greene
From Alabaster, AL, Clay-Greene is a part of the Brownlee-Morrow family of companies as a division of Morrow Water Technologies. They target water booster stations for water management needs of any size.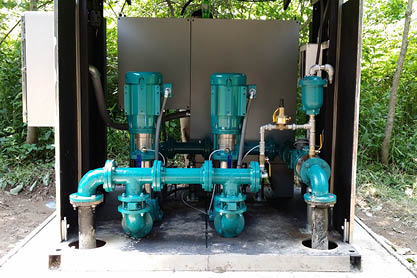 There are seven water booster pump station manufacturers nationwide to also consider if you're looking for your next pump station needs. We also offer tips on how to design an efficient pump station and answers to frequently asked pump station questions. Have any additional questions about water booster pump stations, contact us today!