The Top Ten Submersible Grinder Pump Manufacturers
David Letterman and the Late Show were famous for their Top Ten Lists. Since he's been off the air for a few years we thought we'd bring it back with The Top Ten Submersible Grinder Pump Manufacturers. Submersible grinder pumps are designed to be placed within the wet well and constantly submerged. With that placement, a grinder cutter dramatically reduces the effects of clogging a pump as the vortex impellers create a sewage slurry. Our submersible pump stations are designed to fit any pump on the market, so we have experience with a variety of pump brands and want to pass that information to you.

So here it is: The Top Ten Submersible Grinder Pump Manufactures…
10) Sulzer-ABS Pumps
Started by the Sulzer Brothers in 1834 in Winterthur, Switzerland, Sulzer-ABS Pump are one of the world's leading pump manufacturers and provides a wide range of products for engineered, configured, and standard pumping solutions. Our OEM agreement with Sulzer-ABS Pumps enables us to deliver their pumps in our pump stations across the United States.
9) Tsurumi
Founded in Osaka, Japan in the 1920s, Tsurumi Pumps developed their first "submersible" pump series back in 1953. Since then, they have expanded worldwide with offices domestically in the greater Chicago and Salt Lake City area.
8) Little Giant Pumps
Created in 1941 in Oklahoma City, OK, Little Giant, a Franklin Electric brand, focuses on small submersible pumps, primarily for domestic applications.
7) Hydromatic
Also in Northeast Ohio with us, Hydromatic in Ashland manufactures pumps and submersible pumping equipment in the wastewater industry. They work exclusively with professionals in the industrial products sector.
6) Myers
A sister brand to Hydromatic, under the Pentair umbrella in Ashland, OH, Myers Pumps focuses on the residential side of the business with a wide range of sewage, effluent, sump, water well, and utility pumps and accessories.
5) Liberty Pumps
Headquartered in Bergen, NY, Liberty Pumps manufactures products for ground water and wastewater removal. Their product design offers grinder pumps, as well as sump pumps, sewage pumps, effluent pumps, and pump accessories.
4) Zoeller Pump Company
Created in a family basement in 1939 in Louisville, KY, Zoeller Pumps researches and develops pumps for the wastewater industry with a focus on both industrial and residential applications..
3) Goulds Pumps
Out of Seneca Falls, NY, Goulds Pumps offers industrial pumps, valves, efficiency systems and more with worldwide manufacturing locations. They focus on serving customers in the oil and gas, power generation, mining, chemical, pulp and paper, and other industrial markets.
2) E/One
Based in Niskayuna, NY, Environment One Corporation is a manufacturer of complex metal parts and industrial products. They concentrate on products and services for the disposal of residential sanitary waste and utility systems throughout the country.

And the number one Submersible Grinder Pump Manufacturer….


1) Barnes Pumps
As part of Crane Pumps & Systems in Piqua, OH, Barnes Pumps includes engineering, operations, customer service, and sales across two building locations. We have been a channel partner of Crane Pumps since 1993 and consistently rank as one of the Top 5 distributors for CP&S. Our team has worked with Crane to develop new products and we stock over 200 Barnes submersible pumps in our warehouse and even in our upcoming online EShop.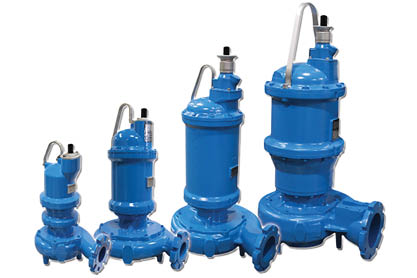 These are ten submersible grinder pump manufacturers that you can consider installing in your next pump station. We also have answered frequently asked pump station questions and have complete steps on how to design a submersible wastewater pump station. Questions about grinder pumps and their capabilities? Contact us today!