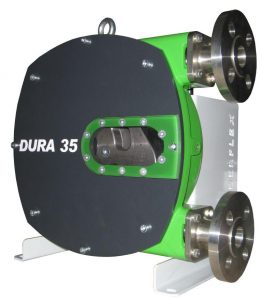 Excel Fluid Group offers Verderflex Peristaltic Pumps. Verderflex industrial peristaltic pumps are extremely robust and ideal for heavy duty operations on continuous or intermittent duty cycles. They are a simple to use, easy to control, versatile, and a reliable way to pump liquids.
With maximum flow rates ranging from 0.25 GPH to 400 GPM there is a Verderflex Industrial peristaltic pump for most medium to high pressure pumping requirements.
The VF Series Pumps are traditional close coupled peristaltic pumps with a full range of pump sizes from 10mm to 125mm.
The Dura Series Pump represents the latest technical advances in hose pumps. These pumps combine the compact design of the close coupled pump with the advantages of the gearbox protecting gap. This design offers a space savings of up 40% against traditional pump designs. Pumps are available in 7 sizes from 5mm to 45mm.