Answering Six Common Questions About Packaged Pump Stations
We are proud of our teams' over 50+ years of combined experience in pump station knowledge. We felt it only right to be able to share the knowledge we've gained over the years in a series of videos, answering the most common questions we've seen about packaged pump stations.
1) What is a packaged pump station?
A packaged pump station is complete turnkey pump station from one manufacturer. This helps eliminate any scope gaps while providing faster submittal and installation times with factory preassembled and tested components for your project specific pump station solution.
2) What is the difference between a lift station and a pump station?
Both lift stations and pump stations provide the same solution with a wet well, pumps, controls, valves, and piping. While the terms are mostly interchangeable within the industry, pump stations typically have a longer discharge force main while lift stations traditionally have a shorter force main.
3) Do pump stations smell?
No, a properly designed pump station should not smell. A stormwater pump station should never smell because it is only handling precipitation. A working and closed sewage pump station should also not smell unless an operator walks up and opens the hatch to maintain the station. Even then, once its closed and under normal operation again, the smell should subside quickly.
4) How long does a lift station pump last?
A properly designed pump station should have a life cycle of a 30-50 years. This is provided the pump station has regularly scheduled maintenance, is built to mitigate groundwater infiltration, has a constant power service, avoids too much nonorganic media in the waste stream, and natural disaster weather events.
5) Can I pump sewage uphill?
Yes, pump stations can pump sewage uphill.
How do sewers go uphill?
Pump stations pump sewage uphill with a combination of a mechanical pump, wet well, controls, and valves and piping.
How far can a lift station pump?
While there is no technical limit to how far a lift station can pump, we caution to avoid using long force main lengths and misapplied pipe diameters because that can cause the sewage to go septic and smell.
6) Are pump stations noisy?
Under normal operation, you shouldn't be able to hear a submersible pump station, even if you are standing on top of them. Under extreme circumstances like a power outage, a generator could be hooked up and cause some noise. However, this will usually be at most 8-24 hours until the power is restored.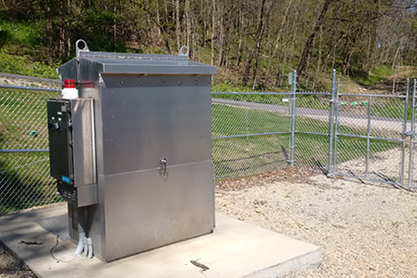 Those are some answers to the commonly asked packaged pump station questions. Check out our YouTube channel and subscribe for more videos on pump stations and updates within the pump industry. We also answered other frequently asked pump station questions if you didn't get the answer you were looking here. Have any additional questions about your next pump station project? Contact us today